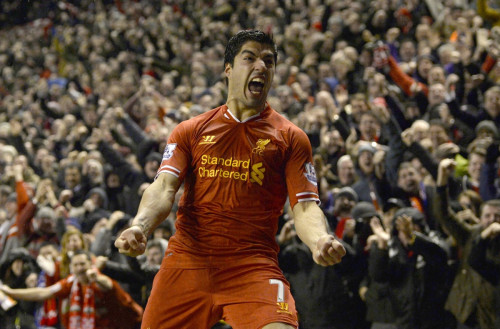 Former Arsenal defender Martin Keown fears Liverpool striker Luis Suarez could end the Gunners' domestic trophy hopes in the upcoming double-header against Liverpool.
Arsenal travel to Anfield this weekend hoping to extend their lead at the top of the Premier League in a match which could shape the north Londoners' season.
The games come after Arsenal failed with two high-profile bids for Suarez in the summer, with the Uruguayan's scoring success since returning for Liverpool emphasising the error in failing to land him.
And Keown fears missing out on Suarez could come back to haunt Arsenal, who also face Manchester United and Bayern Munich in the coming weeks.
"Suarez is a player who I hope doesn't end Arsenal's season because they fought very hard to get him and I think they realised they needed that type of player and he would have been the icing on the cake from an Arsenal point of view," Keown told talkSPORT.
"The FA Cup does become a problem if you want to progress in the Champions League and this is an array of fixtures that I've never seen anything like. You've got to go to Liverpool; you're playing Manchester United and Bayern Munich. It's one game at a time."
Though Suarez was unable to influence as Liverpool slumped to a 1-1 draw against West Bromwich Albion, the Uruguay international has scored 23 goals this season and is spearheading the club's attempts to qualify for the Champions League.
Daniel Sturridge has netted 14 league goals including six since his return from injury and Arsenal face a tough proposition to kick-start a run a fixtures which will define their season, with a win.
They face champions United next week and then Liverpool again before Bayern Munich travel to the Emirates Stadium in the Champions League.
The second leg against reigning European champions Bayern then comes prior to trips to Tottenham Hotspur and Chelsea and before the visit of Manchester City at the end of March.