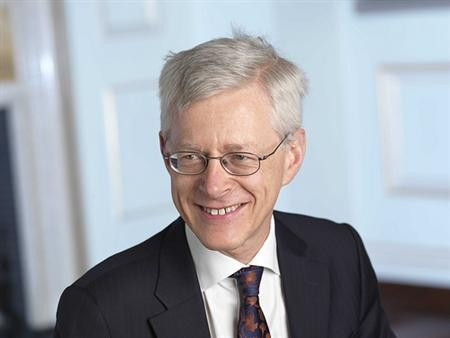 Britain's downturn is not over and it could even triple-dip into recession - something the economy has never seen before - after a bounce back in the third quarter, Bank of England policymaker Martin Weale has warned.
Since the end of 2011, the UK has been in a double-dip recession as the ongoing eurozone crisis, slowing global growth, dampened domestic demand and crippling public austerity all bite down hard on the economy.
In the third quarter GDP is expected to rise sharply as lost output from an anomalous public holiday in celebration of the Queen's Diamond Jubilee corrects itself in the data.
"The Jubilee depressed output in the second quarter so you get an automatic bounce back. But if we talk about underlying growth then I think the economy is flat," Weale told the Daily Mail, adding that Britain is in a "period of stagnation".
"I certainly would not say there is no risk of [a triple-dip recession] happening. What we have learned over the last four or five years is the capacity of the economy to surprise in ways people might not have thought possible."
International Monetary Fund (IMF) economists slashed their forecasts for the UK economy to a -0.4 percent contraction, having previously predicted 0.2 percent growth.
Official Bank of England estimates also put growth at around flat for the year.
"Everyone is expecting next year to be a bit better than this year, but we have to remember that forecasts are uncertain and the problems of the euro area might worsen sharply in which case next year would be very difficult as well," said Weale, who is one of the external members on the nine-seat monetary policy committee, which sets the Bank of England base rate.
"What we have had recently is a series of adverse shocks such as fuel prices. That eats into people's living standards. Farmers are saying that the British wheat harvest is going to be poor and that is likely to have some influence on prices.
"We do have a sense of having had one thing after another. My expectation is that sort of sequence of bad luck will stop and we will see an eventual increase in living standards and rising disposable income, but I certainly wouldn't want to say exactly when it is going to happen.
"My hope and expectation is that there will be some improvement next year."
More QE risks inflation target
Bank of England policymakers have had a quantitative easing programme in place since January 2009 when the financial crisis necessitated drastic monetary policy action.
Under the programme, called the Asset Purchase Facility, the Bank buys up gilts in order to improve liquidity in the markets.
It is currently at a total value of £375bn having had two increases on its original £200bn target. Another £50bn of easing is anticipated by many economists.
Some fear that inflation, which has already proved sticky, will not fall fast enough to reach the government's 2 percent target by the middle of 2013, when the Bank of England forecasts say it will.
Consumer Price Index (CPI) inflation was 2.5 percent in June. Its peak was 5.2 percent in September 2011.
Weale was cold towards yet more quantitative easing because of inflationary concerns.
"It is certainly not self-evident to me in the light of the apparent stickiness of inflation that substantial extra support for the economy would be compatible with the inflation target," he said.
"I am concerned about the stickiness of inflation."
He is also worried about the perception that the Bank no longer cares about its inflation target which "can lead to increased inflation risks and can affect the way in which people negotiate wages and set prices."
"You get much greater stability with inflation targeting and for the regime to be credible people have to think it is taken seriously," he said.
Weale also ruled out any likelihood of the base rate being slashed below its current record low of 0.5 percent, which it has been held at every month for over three and a half years, despite IMF calls to do so in order to help stimulate more spending rather than saving in the economy.