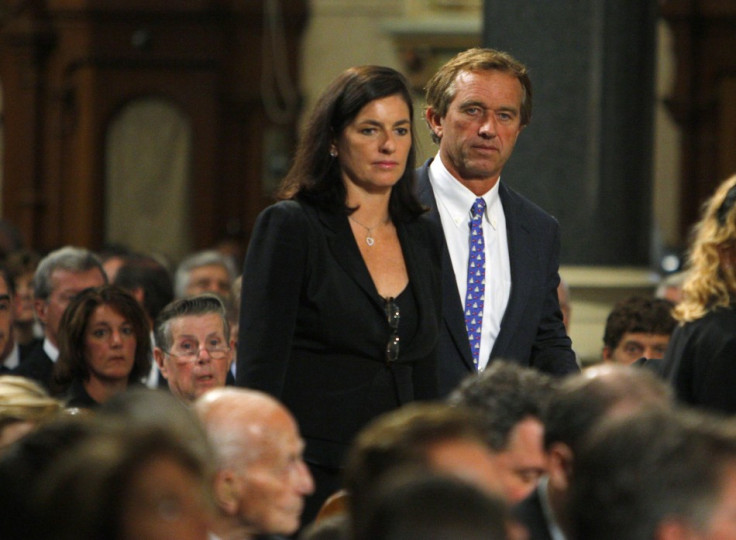 Mary Kennedy, the estranged wife of Robert F Kennedy Jr, was found dead in her home in Mount Kisco, New York, on Wednesday afternoon, according to reports.
The 52- year-old reportedly committed suicide by hanging. Mary Kennedy was the second wife of Robert F Kennedy Jr and the couple was married for 16 years before filing for divorce in 2010.
Robert F Kennedy Jr, the nephew of former president John F Kennedy, is a prominent environmentalist at Pace University School of Law in White Plains.
Mary Kennedy was an architect and an advocate of green designs. She oversaw and keenly monitored the renovation of their sprawling, environmentally-friendly mansion.
"We deeply regret the death of our beloved sister Mary, whose radiant and creative spirit will be sorely missed by those who loved her. Our heart goes out to her children who she loved without reservation," read a statement released by Mary Kennedy's family.
Mary Kennedy was said to be "depressed and despondent" shortly before her death, according Radaronline, which first reported the death. The website quoted a longtime friend of Mary Kennedy who revealed that Mary Kennedy was going through financial problems and worried about the end of her marriage.
"I spoke to Mary on Monday and she sounded extremely down. She was very depressed and despondent and worried about the future," the website quoted the source as saying.
The body of Mary Kennedy was found in the garage of the building by a housekeeper. The Bedford police is investigating the death and an autopsy is scheduled for Thursday.
"Mary inspired our family with her kindness, her love, her gentle soul and generous spirit. Mary was a genius at friendship, a tremendously gifted architect and a pioneer and relentless advocate of green design who enhanced her cutting edge, energy efficient creations with exquisite taste and style," Kennedy Jr's family said in a statement.
"She applied her talent, energy and passion which were both brilliant and abundant, to advocacy for treatment and finding a cure for food allergies and asthma. She was an instrumental co-founder and driving force of the Food Allergy Initiative to which contributions may be made in her name," it continued.
Mary Kennedy had a history of alcoholism and drug abuse and had been booked for drunken driving in 2010. She was stopped outside a school where she had veered her Volvo off the road and onto a curb, according to a Journal News report. Her blood test showed a blood- alcohol level of 0.11 per cent whereas the legal limit is 0.08 per cent, which led to her arrest.
Mary Kennedy's death came as a shock to the residents of Bedford and the news of her suicide is the latest in a string of tragic events to strike America's famous family.
The unfortunate saga of the Kennedy family began when Joseph Kennedy Jr was killed in World War II and his sister Kathleen died in a plane crash immediately after.
In 1963, President John F Kennedy was assassinated in Dallas and his brother was shot dead in Los Angeles while on a campaign trail in 1968.
Following that, in 1984, Robert Kennedy's son David Kennedy died of drug overdose and another son Michael died in a skiing accident in 1997.
Other untimely deaths in the family included those of JFK Jr, his wife and sister-in-law in a plane accident in 1999.