Archaeologists start excavating 3,000 skeletons from Bedlam burial pit at Crossrail Liverpool Street
During the construction of the Crossrail station at Liverpool Street, around 3,000 skeletons were discovered in a former burial pit in the grounds of Bedlam hospital. Archaeologists have now started excavating them.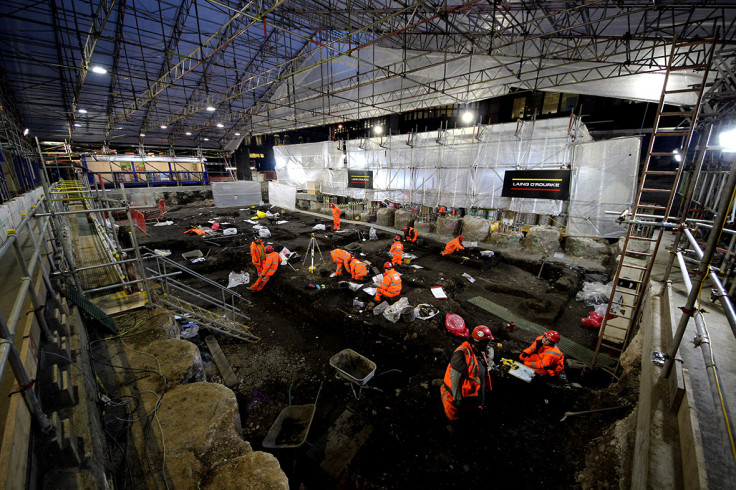 A team of 60 archaeologists works in shifts, six days a week, to remove the skeletons and carefully record any evidence. The excavation is being undertaken by MOLA (Museum of London Archaeology) on behalf of Crossrail.
The Bedlam burial ground was in use from 1569 to at least 1738, spanning numerous plague outbreaks. And 2015 marks the 350th anniversary of London's last Great Plague, in 1665; archaeologists hope tests on excavated plague victims will help them understand the evolution of the plague bacteria strain.
The research also aims to shed light on migration patterns, diet, lifestyle and demographics of those living in London at the time. Excavated skeletons will be taken to MOLA for testing before being reburied in a consecrated burial ground.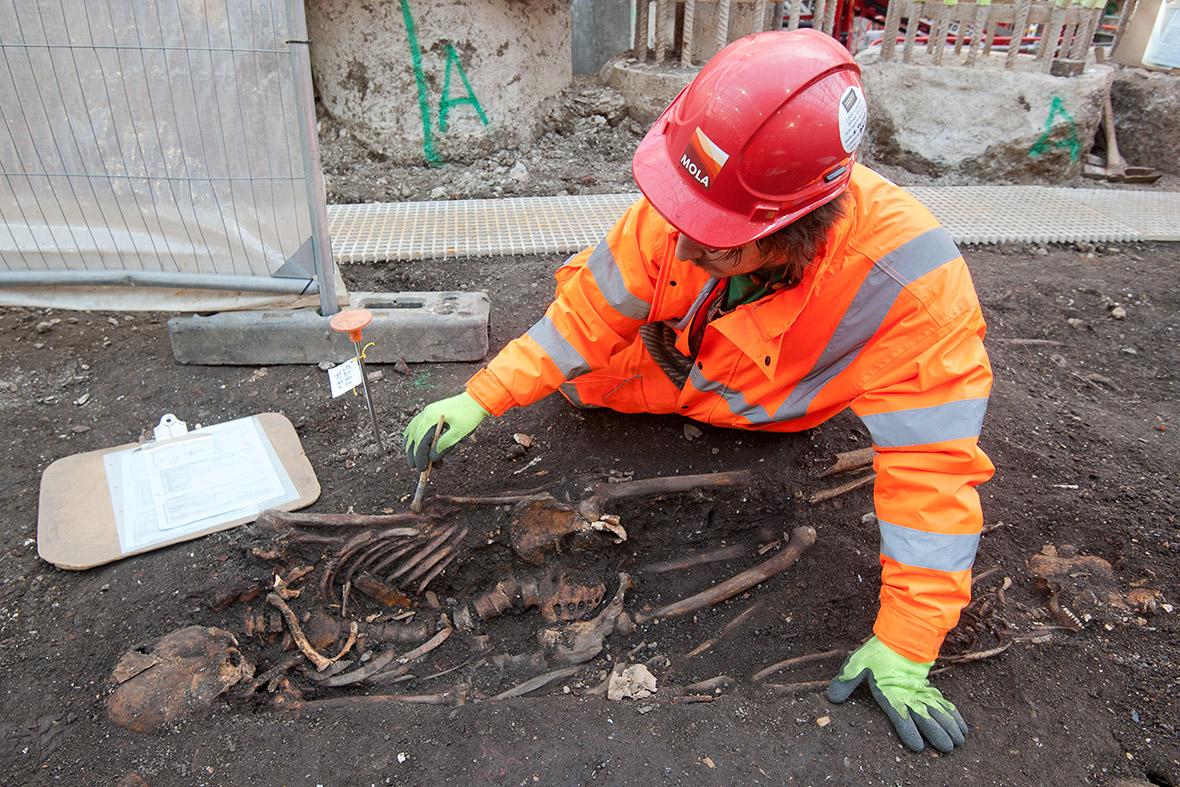 Bedlam was London's first municipal burial ground and was located just outside the City Wall. It was used by people from around London who could not afford a church burial, or who chose to be buried there for religious or political reasons. It was also used as an "overflow" cemetery when existing sites were full, including in times of plague.
The Bedlam burial ground is located at the western end of Liverpool Street. Over 20,000 Londoners are believed to have been interred there. It got its name from the nearby Bethlehem Hospital that housed the mentally ill.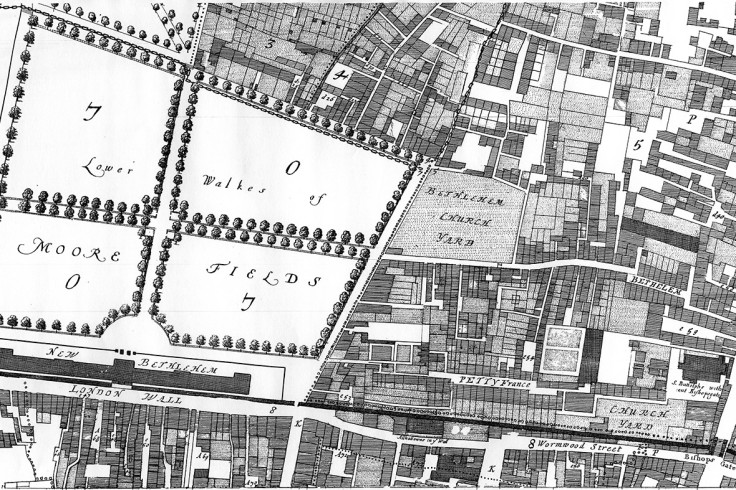 In June 2014, Crossrail invited 16 volunteers to scour parish records from across the capital to create the first extensive list of people buried at Bedlam. The resulting database of over 5,300 names and backgrounds is published on the Crossrail website.
Crossrail is inviting the public to send any information they have about the burial ground or those buried there to bedlamrecords@crossrail.co.uk.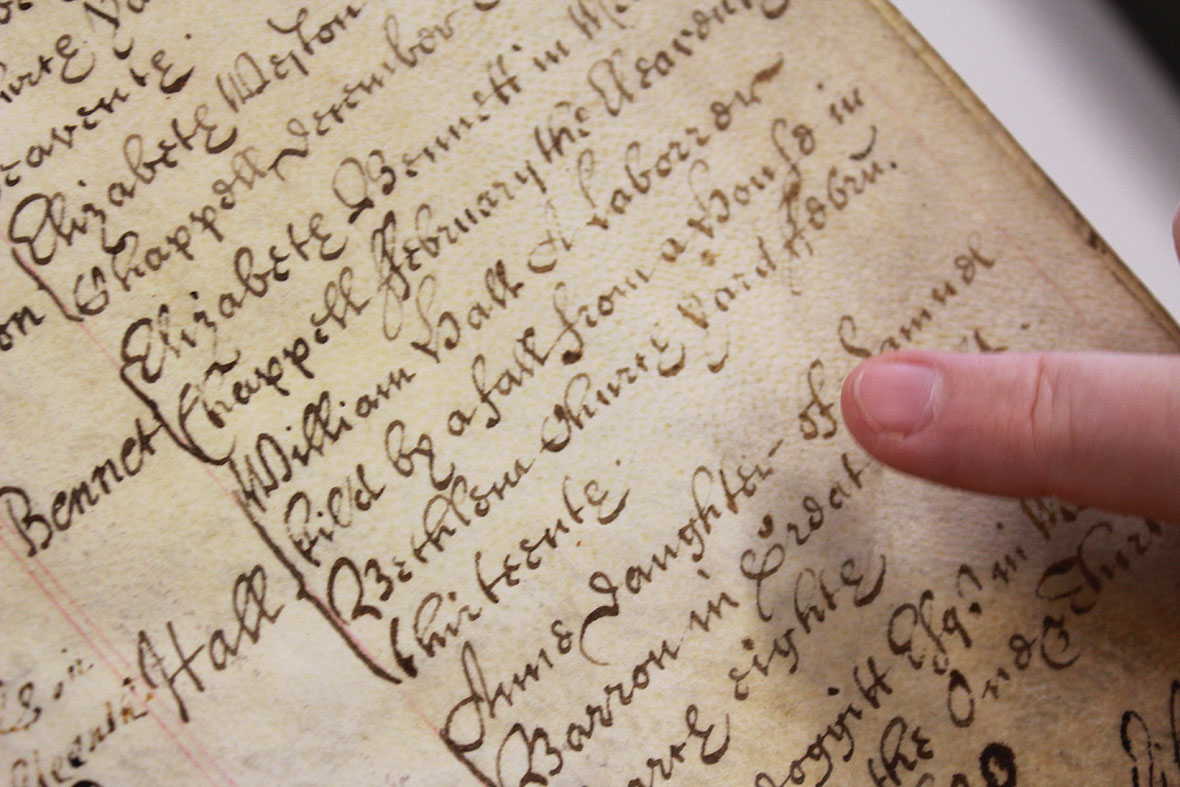 Many people buried at Bedlam were on the fringes of society. Common occupations included servants, maids, tailors, shoemakers and watermen, although middle-class guilds such as butchers and goldsmiths were also buried there. Many different ethnicities are represented, reflecting a globalised city. Plague was the most common listed form of death, followed by infant mortality and consumption.
Those buried at Bedlam include Robert Lockyer, a young soldier in Oliver Cromwell's New Model Army executed for his involvement in the Bishopgate mutiny; John Lilburne, an English political "Leveller" during the English Civil Wars; Lodowicke Muggleton, a controversial religious writer and founder of the Muggletonian movement; and Dr John Lambe, a notorious adviser to the Duke of Buckingham, stoned to death by an angry mob after allegations of black magic and rape.
Nick Elsden, project manager from MOLA, said: "Construction for Crossrail is providing rare and exciting opportunities for archaeologists to excavate and study areas of London that would ordinarily be inaccessible, such as under established road-systems. There are up to six metres of archaeology on site, in what is one of the oldest areas of the city, so we stand to learn a great deal."
The skeletons will be excavated over the next four weeks. Archaeologists will then dig through medieval marsh deposits and Roman remains. A Roman road runs under the site, and this has already yielded several interesting Roman artefacts such as horseshoes and cremation urns.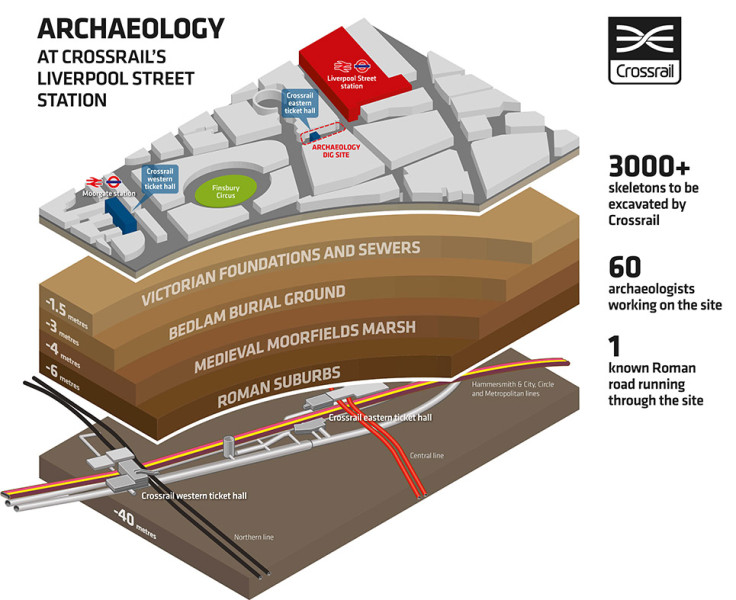 Archaeologists are expected to finish on the site in September, after which construction will proceed on the new eastern ticket hall.
To date Crossrail has found more than 10,000 artefacts spanning 55 million years of London's past across over 40 construction sites. It is the UK's largest archaeology project.
© Copyright IBTimes 2023. All rights reserved.