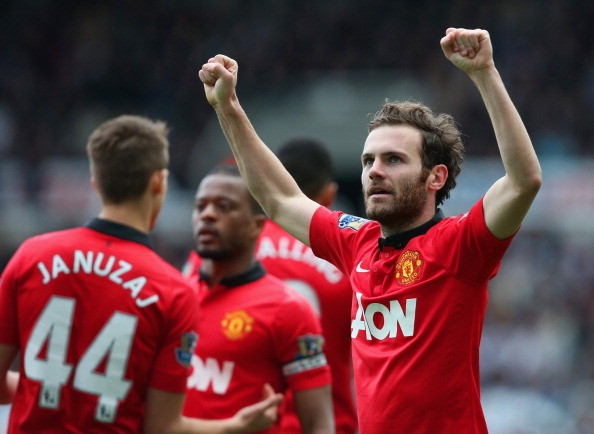 Spain boss Vicente Del Bosque has named his 30-man preliminary squad for the Brazil World Cup, including eight Premier League players – with Manchester United star Juan Mata and Chelsea striker Fernando Torres listed among them.
Mata, the former Chelsea playmaker was missing from the last Spanish squad for the friendly game against Italy due to his lack of matches but his six goals with United since his January move to Old Trafford has helped him secure a provisional spot with Spain.
Meanwhile, Torres has also made the preliminary cut even though he has struggled in appearances for Chelsea this season, scoring 5 Premier League goals in just 16 starts.
The Premier League is represented by six more players including three from Manchester City; Alvaro Negredo, David Silva and Jesus Navas. They are joined by Arsenal star Santi Cazorla, Chelsea full-back Cesar Azpilicueta and United keeper David De Gea.
Furthermore, Liverpool loanee Pepe Reian has also been included in the list after a succesfull season at Napoli.
However, Arsenal left-back Nacho Monreal, Tottenham's unsettled striker Roberto Soldado and Swansea star Michu missed out on selection.
Del Bosque will name the final 23-man squad on 25 May and Spain will play two friendlies against Bolivia and El Salvador to complete their preparation for the World Cup.
Having won the latest two European tournaments and the South Africa 2010 World Cup Spain will go to Brazil as one of the favourites to replicate that success – even though they were beaten by Brazil last summer in the Confederations Cup final.
Spain will open their World Cup campaign against Holland on June 13 before facing Chile and Australia in their other two group stage matches.
Goalkeepers: Iker Casillas (Real Madrid), Pepe Reina (Nápoli) y David de Gea (Manchester United).
Defenders: Sergio Ramos (Real Madrid), Gerard Piqué (Barcelona), Raúl Albiol (Nápoles), Javier Martínez (Bayern Múnich), Juanfran (Atlético), Jordi Alba (Barcelona), César Azpiliciueta (Chelsea), Dani Carvajal (Real Madrid) y Alberto Moreno (Sevilla).
Midfielders: Xavi Hernández (Barcelona), Xabi Alonso (Real Madrid), Andrés Iniesta (Barcelona), Koke Resurrección (Atlético), Sergio Busquets (Barcelona), Santi Cazorla (Arsenal), Ander Iturraspe (Athletic), Cesc Fábregas (Barcelona), Thiago Alcántara (Bayern Múnich), Juan Mata (Manchester United), David Silva (Manchester City), Pedro Rodríguez (Barcelona), Jesús Navas (Manchester City).
Forwards: Diego Costa (Atlético), David Villa (Atlético), Fernando Torres (Chelsea), Álvaro Negredo (Manchester City) y Fernando Llorente (Juventus).