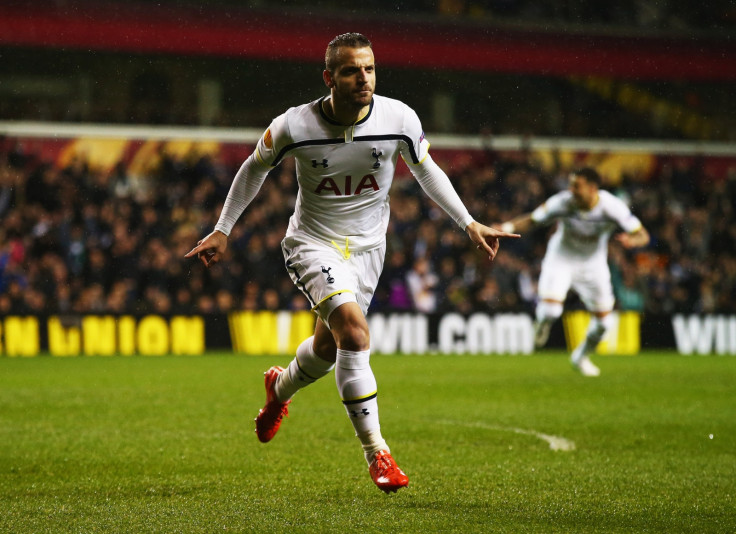 Tottenham Hotspur manager Mauricio Pochettino has admitted Roberto Soldado's first-half miss during the Europe League 2-0 defeat against Fiorentina on Thursday 26 February a was a "key" moment in the game, and said the team and the Spaniard himself are "disappointed" about the defeat.
The Spanish international striker started ahead of Harry Kane in Pochettino's line-up after scoring a goal during the 1-1 draw at White Hart Lane the previous week.
Soldado, who has scored only five goals in 32 appearances this season, struggled once again to respond to the £26m fee that Spurs paid to Valencia in summer 2013 to secure his services.
He indeed failed to add another goal to his short tally at the Fiorentina stadium after in the first-half he ruined a one-on-one situation by deciding to assist Nacer Chadli rather than beating the goalkeeper.
"We are all disappointed, the player, too. It is normal." Pochettino said, according to Sky Sport.
"This one was the first final for us and all players are disappointed, but now we need to look forwards, to recover quickly, because on Sunday we have another game. It is impossible to change the game now.
"It is true that it was key, this action. You need some luck to score sometimes if you are to win the games.
Nevertheless, Pochettino backs his decision to deploy Soldado in his line-up while resting a number of key players ahead of the League Cup final against Chelsea on Sunday, 1 March.
"Fiorentina made nine changes, we made seven changes," the boss added. "I don't know how to explain - we are in a busy period and when you have a strong squad, you need to give the opportunity to play to all.
"It is not about selection it is about performance and our performance was very good in the first half. We deserve maybe 2-0 because I think there was a great chance for us and a clear penalty. We played well and dominated the game, but this is football. It is easy to explain as we saw tonight."