Tottenham manager Mauricio Pochettino slammed his side after their dreadful loss to Liverpool and believes Spurs will find it "difficult" to challenge for the Premier League with performances such as the one they served up at Anfield. Goals from Sadio Mane handed Liverpool a deserved and much-needed 2-0 win over Tottenham, who were a shadow of their usual selves.
Pochettino thought his side managed to create a couple of decent chances against Jurgen Klopp's men on Saturday (11 February) evening but was understandably angry with Tottenham's overall display. The Argentine believes his side lacked "aggression and the desire to win".
"We had some chances, one for (Heung-min) Son, a one-on-one with the keeper, and a few others. To be honest we didn't deserve anything," the Tottenham boss said. "I think we were poor. It's difficult to fight for the Premier League if you show that performance, that lack of aggression and desire to play for the win.
Pochettino was critical of his side's display but paid tribute to Liverpool's performance. The Reds could well have added to the scoreline, with Mane and Roberto Firmino both enjoying good chances in the first half, and the former Southampton boss was impressed by the aggression shown by Klopp's side, who moved back into the top four after only their second victory in 11 matches.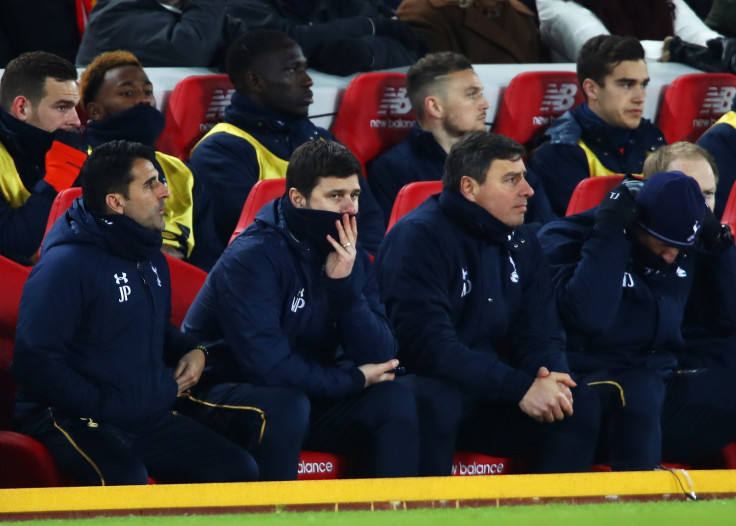 "If you start the game how we started it's too difficult. In front of us was a very good team," Pochettino added. "They were more aggressive after a tough few weeks. Liverpool have a very good team and good players. I think they were better, more aggressive than us. We never coped with the tempo of the game."
Prior to the game Tottenham were enjoying somewhat of a purple patch, winning seven of their last nine Premier League matches. But now Liverpool, who were perceived to be in crisis, are only one point behind Pochettino's men. Anfield has never been a happy hunting ground for Tottenham — they have only won at Liverpool's ground once this century.