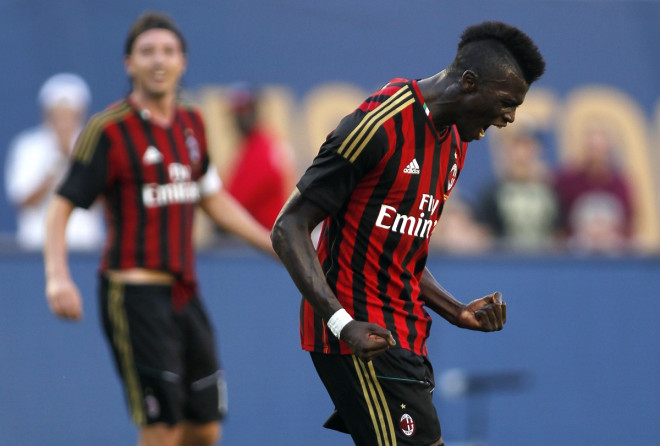 Arsenal and Tottenham could renew their interest in French starlet M'Baye Niang this summer with his club future uncertain, reports suggest.
The 19-year-old underwent a trial with the Gunners in 2012 having also reportedly caught the eye of their north London rivals and Everton before he opted to join AC Milan where he signed a five year contract.
During Milan's tepid campaigns in recent years Niang became a marginal figure and returned to France on loan during the January transfer window, joining Montpellier where he immediately made his presence known with four goals in his first six appearances.
However the combination of Milan's asking price and the striker's controversial history off the pitch has dissuaded Montpellier president Louis Nicollin from making the move permanent. French outlet Le Sport 10 suggest such developments could reignite Arsenal and Tottenham's interest in the teenager they sought to sign less than two years ago.
Although a transfer fee is unlikely to be an issue for the Premier League giants, Niang's chequered history could deter his suitors from taking a gamble on the France Under-21 international.
As a 17-year-old, Niang was one of five French youngsters handed a one year ban from the national team at all levels after the group ditched a training camp to go clubbing in Paris ahead of a crucial Under-21 European Championship qualifier in 2012.
Not long after the incident he was stopped by police in Milan for driving without a licence. The under-age driver then reportedly claimed to be his Milan teammate Bakaye Traore when quizzed by the authorities, something he later denied.
Another blow to his once burgeoning reputation came earlier this year when he was handed an 18-month suspended prison sentence after fleeing the scene of a car accident. The former Caen youngster was taken into custody after crashing his Ferrari while still serving a driving suspension, with witnesses claiming he crashed into several other cars before losing control.