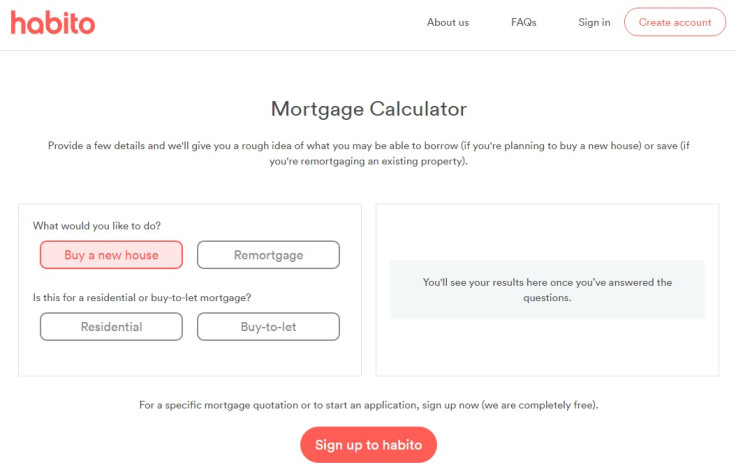 They call it the biggest financial commitment of your life; getting a mortgage and buying a home is a daunting experience. So would you trust an algorithm-powered "digital mortgage adviser" to select and secure the best product for you?
Habito thinks you should. And to sweeten the offer, its newly launched artificially intelligent mortgage advice service – a world first, they say – is free. Users input various pieces of information about them, the property they want to buy, their financial circumstances, and so on, to the website. Then Habito's algorithm – developed and refined by listening to hundreds of customer interviews by mortgage advisers – gets to work finding the mortgage products it thinks best suit you.
"Getting mortgage advice is not the easiest or the most straightforward process," Daniel Hegarty, chief executive of Habito, told IBTimes UK. "There's a vast array of outlets and different levels of quality advice. What we wanted to do is provide a free online real-time advice service where somebody was able to get immediate access to a broad range of advice without having to pay an adviser to take the time."
The advantages are obvious. It's cheap, fast, and can access a vast wealth of data automatically from the whole of the market. But Habito risks losing the nuance and reassurance of a human touch, which some people might prefer.
Hegarty said Habito offers a "hybrid" service. Human advisers are always on hand if wanted. But he said the algorithm offers a level of consistency perhaps lacking elsewhere.
Some brokers have "interesting commission structures", he said, whereas Habito receives the same flat "procurement fee" from all mortgage lenders, which varies depending on the type of product, ie. for home purchase or buy-to-let.
The "conversations" between the algorithm and consumer are also documented, making it easier for both parties and the regulator to audit them. There isn't much if any difference between the questions asked by human advisers and the algorithm as they're both looking for "hard facts", said Hegarty, partly a consequence of the strict rules governing the mortgage market.
And the algorithm won't turn away potential customers with bad credit ratings or who want small mortgages, whereas some advisers may not see such cases as worth their while. Moreover, humans have good days and bad days – algorithms don't catch colds or get hangovers.
But don't price comparison websites already offer the same sort of thing? Users input details and are presented with a long list of mortgage products – and therein lies one of the key differences, argues Hegarty.
"Even taking away mortgage advice, which price comparison websites don't engage with, they don't even filter by eligibility," he said.
"I would actually say the price comparison sites – and I think they would say the same thing – are almost worse than useless. Not only are they not advising you, they're also showing you a bunch of products that there's no way the majority of the population are going to be eligible for.
"Because we filter for things like eligibility and affordability, we're giving consumers a very narrow, very accurate view of the market rather than leaving them to figure it out for themselves."