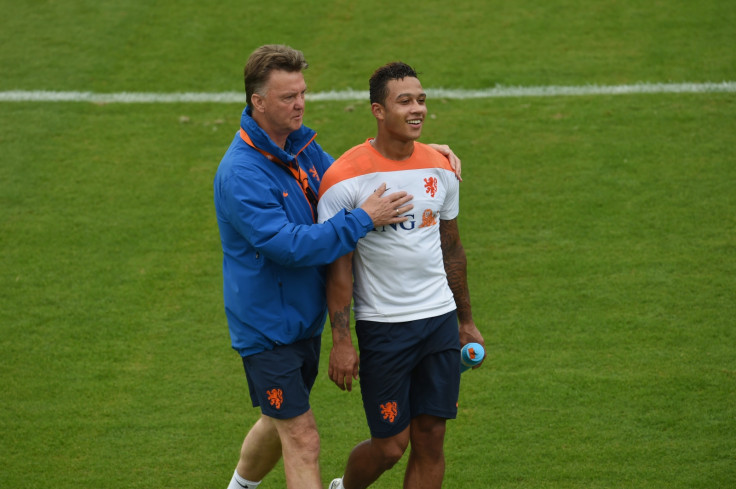 New Manchester United signing Memphis Depay is delighted to have the opportunity to work alongside Louis van Gaal again after the manager handed him some telling advice after last year's World Cup.
Depay's move to Old Trafford was announced last week after the 21-year-old rejected the advances of Paris Saint-Germain to join the Premier League side.
It was the intervention of van Gaal that helped United win his services ahead of the French champions, having built a strong relationship with the free-scoring winger in the build-up to last summer's World Cup campaign in Brazil.
"He is different. His performance on the training ground is different from other trainers," Depay said. "After the World Cup he told me to stay hungry and I told myself to stay hungry.
"When I made the decision to stay I wanted to be champion and top scorer. I set those goals and I hope to achieve them. It will be great to have an opportunity to train with him and work with him. Of course I am looking forward."
Depay will join United off the back of a season in which he helped guide PSV to their first Dutch title in seven years and is now almost certain to finish as the league's top scorer on 22 goals.
The youngster gave audiences outside his homeland a first glimpse of his potential with two goals for his country in Brazil last summer and is now ready to carry that form over to the Premier League.
"I want to improve myself but Dutch players have played also in the Premier League and I spoke with many of them. I believe I can be a big player in the Premier League – I showed my ability in the World Cup," he said.
"I am very excited. I was always reading about the Premier League. It has been a big dream and one that came true. But it is not the end of the dream, it is just starting."