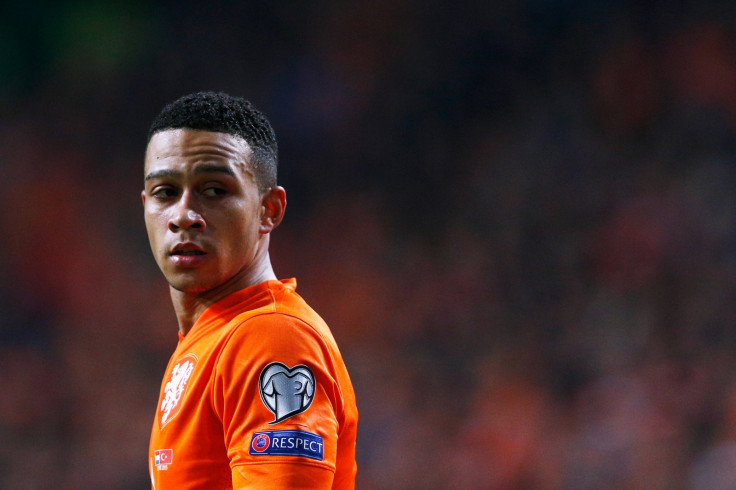 Memphis Depay to Manchester United is the transfer everyone is talking about, according to Daley Blind, who believes the new arrival will have no problem adapting to the size of the club.
Depay, 21, will join United this summer pending a medical after the club struck a deal reportedly worth €29m (£21m, $33m) with PSV Eindhoven earlier in May.
United were forced to move quickly to get their man after Paris Saint-Germain launched a bid for the winger but the intervention of manager Louis van Gaal helped the club seal their first piece of business of the summer and spark excitement among supporters.
And Blind, who played alongside Depay in the Netherlands' World Cup campaign in 2014 before making his move to Old Trafford, reveals he has been inundated with questions around the city of Manchester over what the club's new signing will bring to the table.
"Everyone is talking about this transfer," Blind told Voetbal International. "His move has generated excitement. You notice that not only at the club but also in the city. I am Dutch so people are asking me about Depay."
Depay has spoken of his own excitement over the move on a number of occasions since the announcement, explaining the chance to become a star at Old Trafford has been a dream of his since the age of 12.
But Blind has added the soon-to-be ex-PSV starlet will only really begin to appreciate the size of the club when he arrives.
"He will quickly discover how big Manchester United are. The stadium, the atmosphere, the fans; everything you hear and see about United is true," Blind added.
"Despite being such a big club, there is warmth around here. Memphis will quickly experience how caring they really are. They will do everything to make you feel good about yourself. I feel right at home."