All future Mercedes-Benz cars will carry a QR code to help emergency services download a vehicle's 'rescue sheet' with advice on how to remove injured occupants quickly and safely.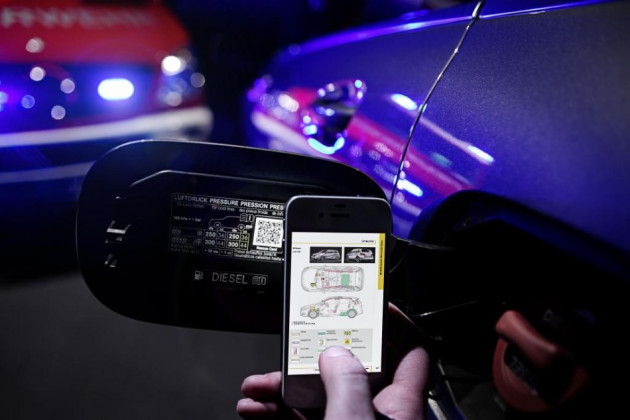 The QR codes, which will be standard on all new Mercedes cars sold from this year, can be scanned via the camera of a smartphone which then downloads from the internet a rescue sheet specific to each model, helping emergency crews locate airbags and fuel tanks, as well as the batteries and high-voltage cables of electric cars.
By knowing where these dangerous and potentially unstable components are located, rescue teams can more safely operate hydraulic cutters to remove parts of the car and gain access to its occupants.
The current location of rescue sheets varies by manufacturer and if one cannot be found rescue crews must call up for the information based on the vehicle's number plate; obtaining the right information can also be difficult if the car has been damaged beyond recognition.
QR (quick response) codes have previously been used to provide links to video content in magazines, contact details on advertising billboards, and by Android devices for downloading applications from the Google Play store, among other uses.
"Can save lives"
The German manufacturer, whose parent company Daimler will also include the codes on its Smart, Maybach and AMG brands, says the information on its QR codes "can save lives."
Mercedes will fix the small, square codes to the inside of the fuel flap on one side and the pillar between the front and rear doors of the opposite side, as it is rare that both areas are heavily damaged in a crash and both are easily accessible from the outside.
Mercedes has often led the way in car safety, as it was the first to fit its vehicles with ABS brakes, airbags and crumple zones to absorb energy in a crash.
Although fitted to all new Mercedes cars, the codes can also be retrofitted to older vehicles, as the rescue sheets are developed independently by the ADAC, the German Automobile Association, and provided to all manufacturers.
By making the QR system available to everyone, Mercedes has waived the right to a patent registration, meaning any manufacturer can install the codes.
Emergency services currently carry devices to download vehicle rescue sheets, but they would also need a QR code-reading application installed to use Mercedes' system. IBTimes UK is awaiting clarification from the police and London Fire Brigade on how this would be implemented.