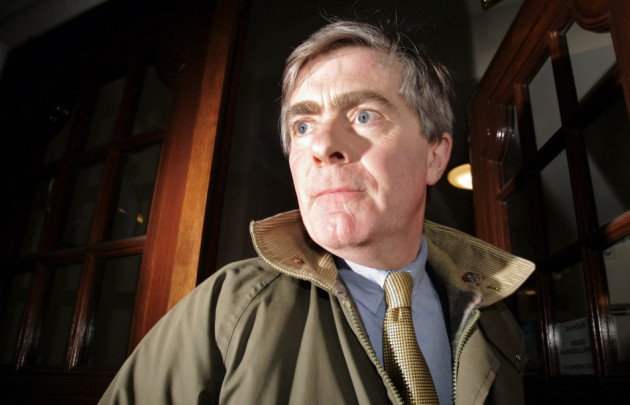 Conservative Patrick Mercer has quit as a Tory MP amid cash-for-questions allegations.
Mercer resigned the party whip and said he would not stand at the 2015 general election.
His resignation from the parliamentary Conservative party as MP for Newark comes ahead of a TV sting focusing on allegations relating to Fiji's suspension from the Commonwealth.
BBC Panorama is set to broadcast its investigation into Mercer, which was carried out in partnership with the Telegraph. Newark MP Mercer said he was taking legal advice over the programme.
Mercer said: "Panorama are planning to broadcast a programme alleging that I have broken parliamentary rules. I am taking legal advice about these allegations - and I have referred myself to the Parliamentary Commissioner for Standards.
"In the meantime, to save my party embarrassment, I have resigned the Conservative whip and have so informed Sir George Young. I have also decided not to stand at the next general election."
A Downing Street source said: "The PM is aware. He thinks Patrick Mercer has done the right thing in referring himself to the Parliamentary Commissioner for Standards and resigning the whip.
"It's important that the due processes take their course."
The former soldier's 12 years in parliament has been controversial. In 2007, he was sacked from the front bech for claiming that racist abuse, including the phrase "black bastard", was normal in the army.
In 2011, Mercer became embroiled in another storm over remarks attributed to him about David Cameron. In a secret recording said to be of Mercer, the Sunday Mirror called the PM "a most despicable creature without any redeeming features" and "an arse".
Mercer denied making the comments.
Mercer's decision to resign the whip but stay in parliament until the next election saves Cameron from the prospect of another midterm by-election as Ukip rides high in the polls. The Nigel Farage-led party has finished in the top three in all six by-elections since 2011.
Newark is a safe Conservative seat which Mercer won with 54% of votes at the 2010 general election.
He took the seat from Labour in 2001 and turned it into a safe Tory seat with a majority of more than 16,000.