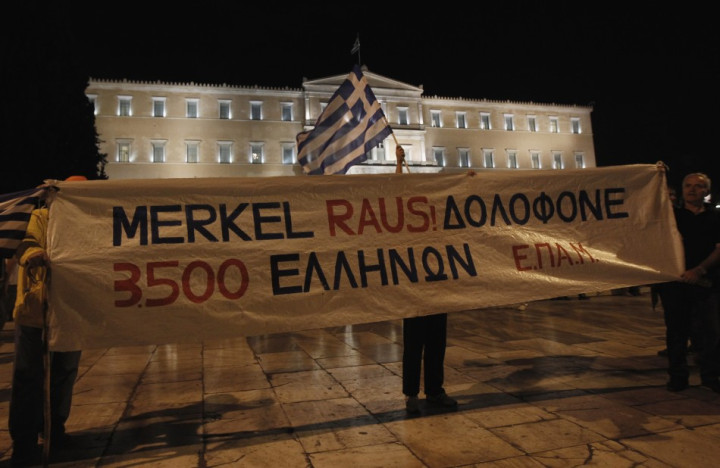 There's a macabre symmetry in the timing of Angela Merkel's controversial visit to Greece this week.
The last time Germany's Chancellor arrived in Athens - just as the credit crisis was beginning to spread its toxic fumes in the summer of 2007 - was the last time the Greek economy showed any signs of economic growth.
Since then, Europe's "sick man" economy has staggered from recession to depression to near collapse as the austerity demanded in return for €240bn in European and International Monetary Fund aid has helped sap demand and hollow out the admittedly brittle shell of the single currency's Achille's heel.
There are myriad reasons for the current misery - and they're likely to extend Greece's recession into a sixth consecutive year and ultimately lop around 25 percent from the nation's output.
Some are economic. Some are cultural.
Most, however, are political.
And that makes Merkel's visit to Athens today all the more mystifying.
German lawmakers are spinning the trip as a show of "solidarity" with the Greek people and a demonstration of support for their newly elected Prime Minister, Antonis Samaras.
But like most of Europe's inept and tin-eared crisis strategy, the visit has morphed into something else.
Like it or not, Merkel is the public face of Greek suffering while the media have cast her as the villain - often dressed in Nazi paraphernalia - in the modern day drama that's defined the southern European economy: surging unemployment, decimated public services, poverty, violence and suicide.
Never mind the fact that German's have stumped up the lion's share of Greece's financial rescue - cash, which, but for Berlin's efforts, simply would not exist. Never mind that Merkel is one of the few European politicians who's never wavered from her commitment to keep Greece in the single currency. Never mind the fact that generations of Greeks have been betrayed by the criminal incompetence of their political leaders.
Perception is sadly reality and Merkel is its manifestation.
Police in Athens know this only too well and have mobilised nearly 7,000 officers to manage the predictable chaos. The country's two biggest trade unions - EDEDY and GSEE - are bussing in members for twin demonstrations outside Greek parliament to coincide with Merkel's sit-down with Samaras.
A child could see that the attempted showing of "solidarity" will only inflame and understandable - if misplaced - anger.
An adult should recognize that igniting that rage at precisely the same time Greece's leaders are trying to cobble together consensus on even deeper public spending cuts is pure lunacy as teachers, nurse, doctors and public servants take to the streets.
Or perhaps that's the aim?
Syriza, the anti-European opposition party which finished second in last spring's vote, is leading opinion polls. If the current government collapses, it's a safe bet to form a majority at the next election. Its leader, Alexis Tsipras, has vowed to tear-up Greece's bailout deals and force a new consensus with its European partners. Or else.
Merkel's a savvy political operator who understands the game theory required to end this mess with a win - both at home and in Europe - and she's smart enough to understand two inevitable truths: Greece cannot survive inside the single currency and Germany can't be seen as the reason Greece leaves it.
The writing is on the wall: European finance ministers agreed Monday to hold Greece to 89 separate reform promises it made back in March. Samaras has until 19 October to prove they've been implemented.
There's no chance whatsoever they will.
The IMF will meet this week in Tokyo amid demands for Greece to do "more ... on all fronts: fiscal, structural reforms, financing, debt" according to managing director Christine Lagarde.
There's no chance whatsoever - nearly three years after the failure of the first bailout - the deeper reforms and more debt will satisfy Greece's creditors.
Exit is inevitable - but only if the choice comes from within Greece.
Merkel's stated desire to keep Greece inside the Eurozone will have little resonance to a nation now convinced of its economic annexation by Berlin. It will have no meaning at all if her visit is shortly followed by yet another official round of austerity.
And there's simply no way that can be avoided; Greece needs its €31.5bn rescue trance and the IMF wont' sign-off on it until Samaras hammers out €12bn in new cuts.
"Will she blink over the tranche?" asked Ta Nea, Greece's most-read newspaper, on its Monday front page.
Who knows?
What we do know is that bailout fatigue around Europe is near its peak and the newly minted rescue fund will likely receive applications from Cyprus and Spain before the end of the year. If Italy follows suit, the cash required to stabilize the wobbling currency will far outweigh the hard fought capital committed by European taxpayers.
Turning more of it over for a third Greek salvage would be unthinkable.
And that's why Merkel's visit feels like more of a farewell tour.
Athens: Anti-Merkel Protesters Burn Nazi Flags and Scuffle with Police [SLIDESHOW]