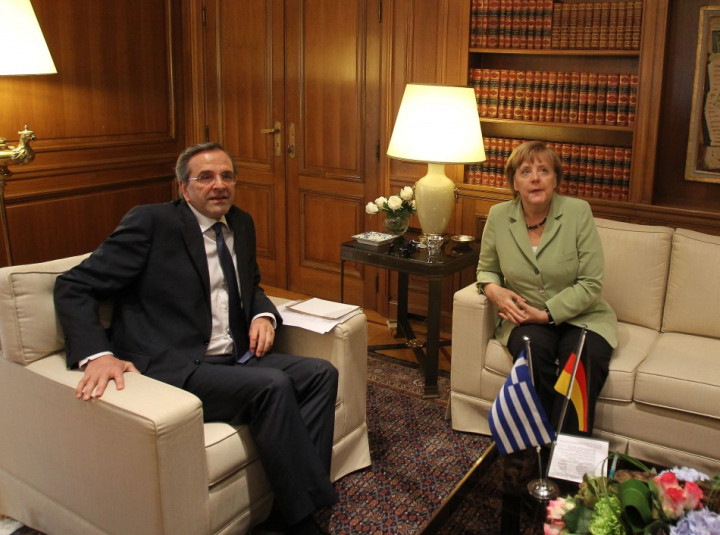 Germany's Chancellor Angela Merkel pledged her support to keep Greece inside the eurozone as protests to mark her first visit to Athens since the sovereign debt crisis turned violent
In a press statement prior to a six-hour meeting with Prime Minister Antonis Samaras, her visit official visit to the recession-hit economy since 2007, Merkel praised the efforts of the coalition government to deliver fiscal and structural reforms but warned that there was more hard work ahead and that one single aid tranche would not solve the nation's longer-term problems.
"There has been progress in Greece ... a lot has been accomplished," said Merkel. "Recently, reforms have been sped up although there is still room for things to improve. These are tough measures but they are the right ones. I want Greece to remain in the eurozone."
Greece is "bleeding", said Samaras, but determined to stay inside the single currency.
"What's left for us to do is mostly structural measures to make the country more competitive. We're trying to turn the page," he said.
The visit, the first by a German chancellor since 2007, was marred by violence in and around the capital of Athens as police fired teargas and stun grenades on demonstrators in Syntagma Square as they attempted to break though barricades and reach the Merkel delegation as it entered Samaras' offices near the square.
Local media reports suggested that dozens of protesters had been arrested and several hundred more detained as tens of thousands gathered as part of a coordinated national strike to protest what many feel are crippling demands for public spending cuts in exchange for financial aid from the International Monetary Fund and the European Union.
Samaras and his coalition partners are in the final stages of negotiation with lenders from the IMF, EU and the European Central Bank on the release of around €31.5bn in financial aid as part of the terms agreed with the so-called Troika last spring. Lenders have asked for iron-clad commitments on spending cuts and austerity measures worth at least €12bn in order to disperse the cash - originally slated for July. Samaras and his government are said to have reached consensus on around €9bn in pledges.
"The next loan tranche is absolutely necessary for the Greek economy," said Merkel. "But I am not here in the role of school mistress, to award marks and we are not the Troika."
The IMF said it expects Greece to miss its five-year debt reduction targets as its economy slide further into recession next year, according to its most recent monitoring report, released earlier Tuesday. The Fund expects debt will rise to around 153 percent of GDP by 2017 compared to a goal of around 137.3 percent. Greece is also expected, under terms of its €240bn bailout to begin generating primary fiscal surpluses of around 4.5 percent of GDP by 2014.
Athens: Anti-Merkel Protesters Burn Nazi Flags and Scuffle with Police [SLIDESHOW]