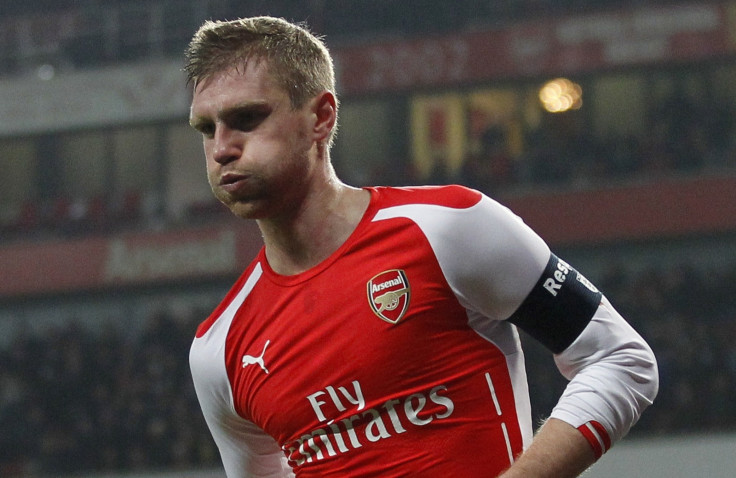 Per Mertesacker believes that there is still a slight chance that Arsenal manage to redeem their mistakes in Monaco and qualify for the quarter finals of the Champions League.
The Gunners hit themselves in the foot by putting in a deplorable performance at home against the fourth placed side in Ligue One, conceding three extremely soft goals and losing the game 3-1.
A deflected shot from Geoffrey Kondogbia in the first half gave Monaco their first goal which rattled the Gunners, who were naive enough to push everyone forward, early in the second half.
Arsenal's lack of cover at the back meant that Monaco were able to counter at will, through which they scored their next two goals, all but ending any chance that Arsenal had of qualifying for the third round of the tournament after four years.
Olivier Giroud missed four gilt-edged chances to bring Arsenal back into the game and had a shocker of a game for which he was substituted as early as in the 60th minute.
Mertesacker also had a day to forget, unable to cover for any of the goals and his body position for Kondogbia's shot allowed the ball to divert straight into the net.
"We are not happy with our performance as a team, but we tried to fight back. We still have hope of coming back even stronger from this disappointment," Mertesacker told the official Arsenal website.
"We try to create a special atmosphere with our travelling fans. We are capable of doing special things, even away from home," he said.
"Let's try to raise everyone's level at Monaco. Let's try to get in our rhythm there. We could have scored more than three goals [in the first leg] for sure, and we can hurt them.
"We can't look back and think too much about this game. We will analyse what went wrong, but when we travel to Monaco we have to be on the front foot, be brave and get the best out of ourselves.
"We have seen a lot of miracle nights in all competitions. When I was a young kid in Germany, there were a lot of miracles, especially in Europe. These European nights can be very frustrating, but they can also be wonderful. We need a wonderful night," he concluded.