At 66, screen legend Meryl Streep has enjoyed a prolific career that has spanned more than four decades. But Hollywood's leading lady almost turned her back on acting after being told she was too "ugly" for a role in the 1976 King Kong movie.
A Facebook post featuring a vintage snap of the Iron Lady star standing on a crowded train along with an inspirational "message" about self-belief has gone viral online. In the image taken "on my way home from an audition for King Kong" a youthful-looking Streep sports a colourful off-the- shoulder dress and carries a grey handbag.
"This was me on my home from an audition for King Kong where I was told that I was too 'ugly' for the part," the accompanying message reads. "This was a pivotal moment for me. This one rogue opinion could derail my dreams of becoming an actress or force me to pull myself up by the boot straps and believe in myself."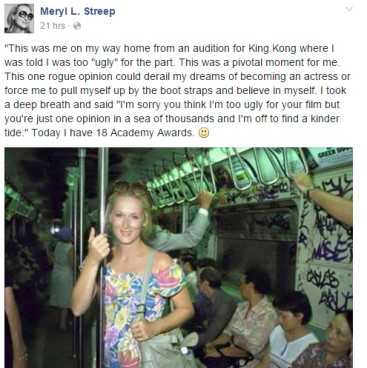 According to the post, her actions ultimately changed her life. "I took a deep breath and said: 'I'm sorry you think I'm too ugly for your film but you're just one opinion in a sea of thousands and I'm off to find a kinder tide.' Today I have 18 academy awards."
One elated fans replied: "I fell in love with your beauty and talent in the Deer Hunter many years ago. And I have seen all your movies. You're the best by far. You remain beautiful to this day."
Although the message has garnered praise from fans across the globe, there is a good chance it wasn't actually Streep that posted it. Aficionados of the Devil Wears Prada star will know that she actually has three Academy Awards and 19 Oscar nominations. The About section of the Facebook page the image appears on reads: "We are the fans of Meryl Streep and think she's Awesome."
While the Facebook account isn't quite accurate, the King Kong audition story is true. Back in January, Streep opened up about being turned away during an appearance on The Graham Norton Show. "It was Dino De Laurentiis Senior, and his son had seen me in a play and so I went up to the top of the Gulf and Western Building, like the 33rd floor and he had this amazing office that looked all over Manhattan. I walked in and his son was in there very excited that he'd brought in this new actress," she said.
"And the father said to his son – in Italian, because I understand Italian – he said: 'Brutta', you know, 'why do you bring me this ugly thing?'
"Very sobering as a young girl. So I said to him...'I understand what you're saying, I'm sorry I'm not beautiful enough to be in King Kong."'
For more entertainment news follow A-List on Twitter @Alistinsider