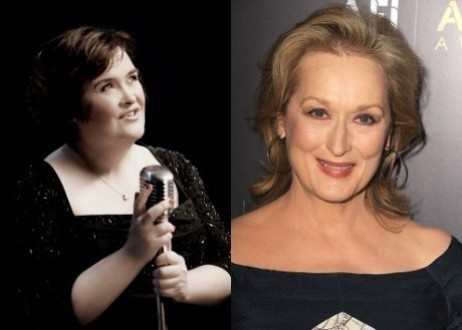 Susan Boyle has revealed that Oscar-winning actress Meryl Streep has been approached to play her in a film about the singer's rise to international fame.
The 52-year-old Scottish sensation, whose rendition of I Dreamed a Dream on Britain's Got talent in 2009 wowed YouTube users, said she would be involved in the project but had no plans to star as herself or make a cameo.
"I wouldn't like to be in the film myself," she told Metro.
"I'd like someone to play me. Probably Meryl Streep - I understand she has been approached."
The Iron Lady actress is not the only woman in line for the part - Catherine Zeta-Jones and Glenn Close have also been tipped.
The biopic is being produced by Britain's Got Talent boss Simon Cowell and Fox Searchlight studio executives.
It will follow other reality-inspired films including One Chance, about Britain's Got Talent's winner Paul Potts, teenage favourites One Direction: This is Us, and the forthcoming Pudsey: The Movie.
Boyle is worth an estimated £22m and has sold more than 19 million albums around the world.
Although her life has changed drastically in the last few years, she holds on to her old suburban life. She still lives still in the modest four-bedroom home she was raised in and does her own shopping at the local Tesco.
Boyle said: "If you are successful, watch the people you go with because if you don't have a good team about you it's all too easy to fall into wee traps."