Messi Demands £400,000 a Week To Stay at Barcelona Amid Manchester City Interest – Report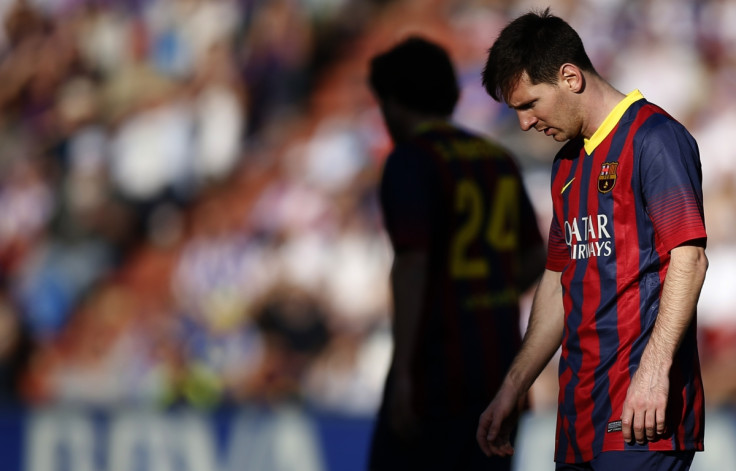 Leo Messi has reportedly asked Barcelona for more than £400,000 a week to commit his future to the Nou Camp, with recent reports in Spain claiming that Manchester City are monitoring the negotiations should the Argentinian star finally decided to leave La Liga.
Even though Messi scored a hat-trick in the latest Barcelona 7-0 victory over Osasuna, his future at the Nou Camp is under scrutiny, with some pundits claiming he's looked unhappy at Barcelona this season.
Spanish newspaper El Confidencial recently revealed that City are considering breaking the bank to secure his services, with a rumoured record £200m deal in the offing.
But Messi has reiterated his desire to stay at Barcelona, with Spanish newspaper AS reporting that negotiations over a new contract have been stalled, due to disparity between what the player wants and what the Blaugrana can offer.
Apparently, the biggest problem is that Messi believes that summer signing Neymar has overtaken him as the squad's best-paid player, and is now asking Barcelona for £21m a year (around £400,000 a week) while his current annual salary is £13.5m.
AS has reported that Barcelona wants Messi to continue but that the Argentinian's demands are a long way off what they want to pay.
A Spanish newspaper report from last summer revealed Messi had received offers from three big European clubs - all significantly higher than what he earns at Barcelona.
Meanwhile, Barcelona vice president Manel Arroyo has claimed they will do everything to convince Messi to stay at Barcelona.
He said: "Messi said his desire is to retire at Barcelona and we will make every effort to get Messi to complete his career at Barça. In fact we are grateful for his new record as the top scorer in the club's history and we have reinforced this commitment to ensure his stay."
"Barcelona president Bartomeu already said that he has talked with Messi's father and they are currently negotiating."
© Copyright IBTimes 2023. All rights reserved.