Arsenal contract rebels Mesut Ozil and Alexis Sanchez's future at the club will not depend on Arsene Wenger's decision whether to extend his managerial deal, the French boss has suggested. Germany World Cup winner Ozil has confirmed he will agree a new deal on the basis Wenger remains beyond the end of this season when his contract expires.
Both Ozil and Sanchez are demanding wages similar to that of Manchester United's Paul Pogba, who earns £290,000 per week, according to The Evening Standard. The Gunners are reportedly only willing to offer deals worth £200,000, which while it would represent a significant increase for both players does sit below their current demands.
And despite Ozil insisting Wenger's future will directly influence his decision whether to stay at Arsenal, Wenger has dismissed the conditionality and believes the decision facing the former Real Madrid player is far more complicated. The 65-year-old does not expect either him or Sanchez to be affected by any decision regarding his own career.
"I think he [Ozil] has been a bit misinterpreted," Wenger told reporters. "He would like to know what happens of course on the managerial front but I don't think that is the main part of his decision. It is part of it but it's not the only thing. There are many other ingredients in any part of a negotiation and hopefully we will find a conclusion very quickly with him.
"We always speak; but I speak more with his agent on that front on the contract than with him. We do not master alone that situation. Let's not forget all these players have 18 months to go and that is a very long time in football. I am very relaxed."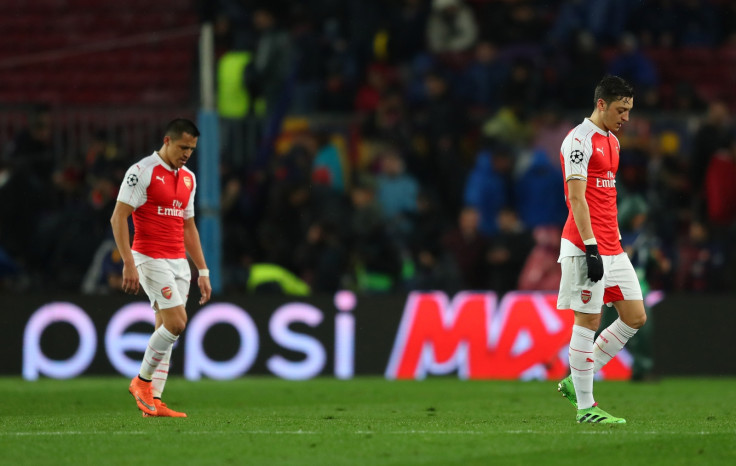 "I do not want to go too much into detail on that [financial demands] because that can be interpreted in the wrong way, I want to keep that as quiet as possible and reach an agreement and respect our line of conduct and they always have."
While Ozil and Sanchez consider their futures at Arsenal, this week saw Olivier Giroud, Laurent Koscielny and Francis Coquelin all agree new contracts at the club. Wenger believes the trio's commitment will encourage others to stay, identifying the north Londoners' team spirit as central to knitting the squad together.
"It is important that we have stability in our squad and they are part of that," he added. "Of course we are in the process of re-negotiating with other players which you know well and so we want to keep good stability. At the end of every season that is what is needed.
"Generally I would say yes [it will encourage others to sign contracts]. The squad had a great spirit and I believe the player will want to stay together. They must think I am here [staying]. I have nothing to add to that. I am completely focused on getting back to the top and to work very hard in every single game and prepare well."