Mesut Ozil must improve Arsenal performances says Gilberto Silva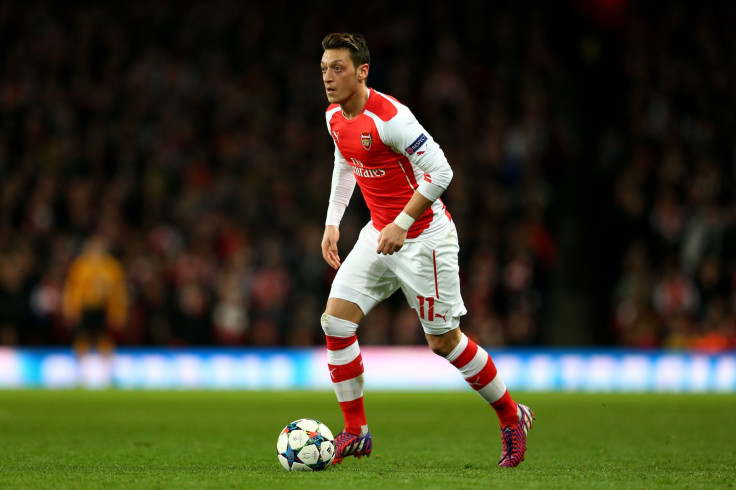 Arsenal playmaker Mesut Ozil has been urged to continue his adaptation to English football and follow the example set by Chelsea forward Diego Costa by ex-Gunner Gilberto Silva.
Since recovering from knee ligament damage in January Ozil has scored three goals and assisted four in 11 matches, including two assists in the weekend's Premier League win over Everton.
Ozil enjoyed an impressive first season with Arsenal after joining from Real Madrid in the summer transfer window of 2013, during which he scored seven goals in 39 appearances as the club won the FA Cup and qualified for the Champions League for a 15<sup>th straight term.
But the start of the campaign saw the Germany World Cup winner come under-fire for his lacklustre performances as questions were asked as to whether he could adapt to an Arsenal system which had been bolstered with Danny Welbeck and Alexis Sanchez.
A recent revival has supporters in north London raving over Ozil's performances again - but Silva is hopeful there is a further improvement to come.
"You speak about Arsenal and how they don't spend big money on a player often, but they did with [Mesut] Ozil and it is always a bit risky," Silva told The Evening Standard. "Coming from Spain it is tough to adapt, it doesn't always happen straight away.
"I think the most important thing is that the player understands the philosophy of the team, the philosophy of the manager and the expectation from the fans.
"I do really like him as a player but sometimes in the game he does look quite slow, although he has that quality to change the game.
"He can be more decisive for Arsenal for the quality he has, he can be much more decisive for the club.
"Arsenal hasn't been able to compete with Chelsea and Manchester City for a few years because they spend money on big names and this is not the Arsenal culture.
"They don't spend a lot of money to sign players but apart from that it is not easy to find a way to get back on track to win titles.
"It was important for them last season that they won the FA Cup but a team like Arsenal need more and I hope they find a way to achieve what they always look for.
"If you look at Chelsea, they spent a lot of money on a player like Diego Costa and he has settled really well and is scoring lots of goals, that has worked for them but it is not as easy for Arsenal.
"If the players concentrate on their job and pull together they can form a strong team and try to feel good in their play. Sometimes people expect quick results but it doesn't always work like that."
© Copyright IBTimes 2023. All rights reserved.