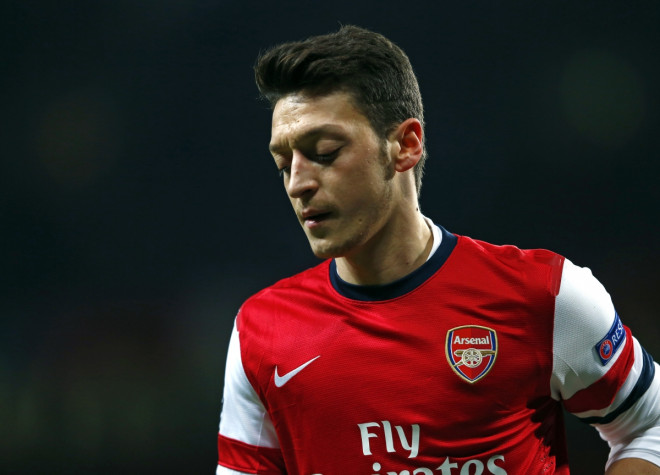 Arsenal midfielder Mesut Ozil believes his lack of a pre-season with his new teammates following his move to north London has been the fundamental factor behind his mid-season slump.
The Germany international has come under intense criticism in recent months as he has struggled to deliver the same scintillating impact he regularly supplied following his club record arrival from Real Madrid last summer.
As a result, Ozil was left out of Arsene Wenger's starting line-up in their last two games and Arsenal's deteriorating form has coincided with the 25-year-old's wavering influence.
Having arrived at the club on transfer deadline day, the 25-year-old admits he is still adjusting to life in the Premier League but remains unfazed by the challenge ahead.
"Nearly every player who is new to Premier League needs time to settle in," Ozil told Bild.
"Here, you meet other challenges. It was clear that I would endure a difficult spell because I missed all of Arsenal's pre-season preparation.
"There was a time when I was not satisfied with my performances either, but I have come through this phase. I don't concern myself too much with [the criticism].
"Three weeks ago they wrote totally different stories and, in three weeks' time, they'll write different stories once again. That's part of the business in England."
Ozil came under particularly intense scrutiny following his performance against Bayern Munich in the Champions League where he missed a penalty and was berated by teammate Mathieu Flamini for failing to track back as the Gunners' were dominated by the Bundesliga and Champions League holders.
After being dropped from the Arsenal squad for the Gunners' 4-1 win over Sunderland, Ozil was restored to the bench against Stoke City but was unable to muster an opening for his side upon his introduction as Wenger's side fell to a 1-0 loss at the Britannia.
With pressure on Ozil to turn his form around ahead of the summer's World Cup in Brazil, his manager recently defended his record signing, sentiments that have been echoed by the midfielder's teammate and compatriot Lukas Podolski.
"Criticism is part and parcel of football" said Podolski.
"I think Mesut is a fantastic player. He's going to give a lot of joy to Arsenal and to Germany.
"He's still young and a good friend of mine. He's played many great games and he will play many more.
"I think some of the criticism was a bit exaggerated and unfair at times."