In the four days of unrest since unarmed teenager Michael Brown was shot dead by a police officer, the Ferguson police department has been using an arsenal of crowd-control weapons on protesters, including a controversial sound cannon capable of causing deafness.
If you thought that rubber bullets, tear gas and stun grenades were bad enough, then check out the Long Range Acoustic Device (LRAD) sound cannons.
LRAD was originally designed by audio entrepreneur Woody Norris as a "non-lethal" way to deter pirates and terrorists in small vessels from approaching US warships, following the 2000 al-Qaeda suicide bombing of the USS Cole in Yemen.
Killer sounds
The devices look like small satellite dishes and can be mounted onto any type of military, naval or law enforcement vehicle, as well as aircraft and unmanned aerial vehicles (UAV).
They are capable of transmitting sounds over long distances at varying audio frequencies depending on their purpose – crowd control, security, to keep wildlife away from wind turbines and birds out of the paths of aircraft at airport.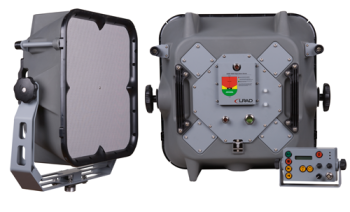 For instance, the US military uses the LRAD 2000X, which can transmit clear voice commands over distances of up to 3,500 metres.
Anything that tries to come within one metre of the device and whatever it is mounted on will be subject to 162 decibels of deterrent sounds, and humans can only stand at most 120 decibels (an ambulance siren) for a short time.
Thankfully the LRAD 500X-RE sound cannons being used at Ferguson are less dangerous (see video above courtesy of Slate), but they still issue deterrent tones reaching 149 decibels at a distance of one metre, which can definitely cause severe hearing damage.
Will there be more lawsuits?
The Missouri State Highway Patrol has now replaced the St Louis police department in securing the situation in Ferguson as the city is starting to resemble a "war zone", according to Missouri governor Jay Nixon.
However, seeing as the Missouri Department of Transportation acquired two LRAD-1000Xi sound cannons in April for a reported $25,000 each (£15,000) which can send out warning tones of 153 decibels at one metre, it doesn't look like they are likely to stop using the acoustic weapons on protesters if tensions continue to escalate.
In 2011, an English professor sued the city of Pittsburgh for using the LRAD on the streets of Pittsburgh during a peaceful demonstration against the International Monetary Fund (IMF).
Karen Piper sustained permanent hearing loss, nausea, pain and disorientation from the device from stopping on her bike to watch the demonstration in a park. She claimed that the LRAD was mounted on a vehicle 100 feet (30 metres) away.
Although a spokesperson for LRAD insisted that Piper was exaggerating the damage she sustained, the city of Pittsburgh settled the lawsuit for $72,000.
After the trouble at Ferguson subsides, the Ferguson police department and the state of Missouri could find itself facing even more lawsuits.