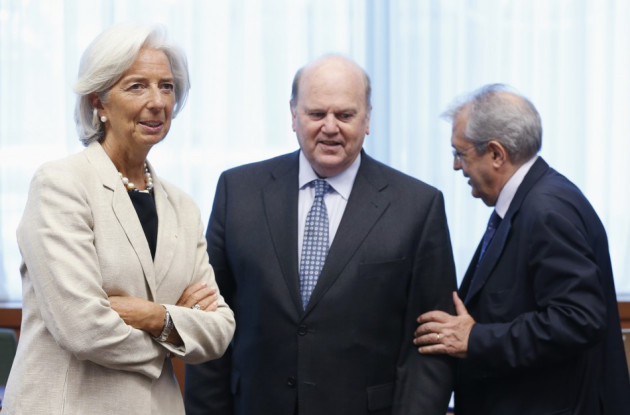 Ireland is entering its seventh year of austerity as it fights to return to economic normality but has delivered a glimmer of hope that it will become the first country to exit an international bailout.
"One of the primary tasks of this budget is to lay down the conditions for a successful exit from the bailout programme at the end of this year ... We are well on course to do this..." said finance minister Michael Noonan.
"By the time the majority of the measures that I have announced today become law on the first of January next, I am confident that Ireland will have left the European Union (EU) /International Monetary Fund (IMF) programme."
In 2008, Ireland's government offered a blanket guarantee to its banks, experiencing the 'credit crunch,' that had fuelled a massive property bubble with aggressive lending practises.
In 2010, Dublin had to accept a €85bn (£71.8bn, $115bn) bailout from the European Union and International Monetary Fund, as the cost of rescuing the country's banks reached a €64bn overall. To pay for the massive bill, Ireland's population had to endure painful austerity measures.
Deficit Reduction
Noonan reported progress in tackling the country's poor public finances and cleaning up the mess left from the financial crash.
The government forecast a fiscal deficit of 4.8% of GDP for 2014 and Noonan listed Ireland's harsh budget targets over the next few years.
"The forecast deficit for 2013 is 7.3% (of GDP), for 2014, 4.8 percent and for 2015, 2.9%. We have beaten our deficit target during each year of our programme, and a deficit at 4.8% will beat the target again next year."
"The debt ratio will move onto a downward path from next year onwards - to 120%at end-2014, 118.4% at end-2015 and 114.6% at the end of 2016. This downward momentum will further enhance market confidence in Ireland."
"My department is forecasting GDP growth of 0.2% this year, strengthening to 2% next year."
Where The Axe Falls
Ireland wielded the axe on spending overall but welfare was the worst affected area.
The budget's saving measures included a review of the Irish medical card system which entitles eligible people to gain access to certain health services for free.
The government said it aims to save €113m by removing all "ineligible and redundant medical cards".
This measure sparked resistance from the Irish opposition that attacked the severity of the budget cuts.
Fianna Fáil finance spokesperson, Michael McGrath, outlined the opposition's disapproval as it affected the most vulnerable members of society, he claimed.
"This is a budget that targets the elderly, it targets those who hold medical cards, it targets young mothers, it abandons people struggling to kept their home, and yet again, incredibly, the government has gone out of its way to insulate the better off from the worst affects of this budget," he said.