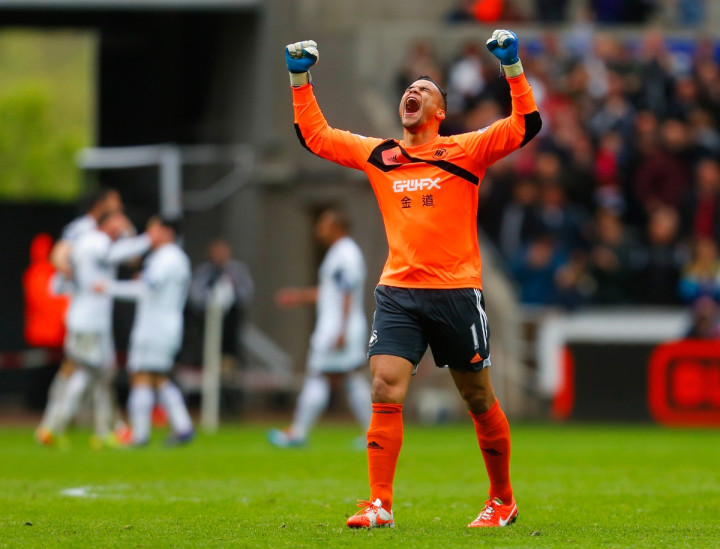 Summer Tottenham signing Michael Vorm has expressed delight about his start to life at White Hart Lane. With keeper Hugo Lloris excelling, Vorm has seen his chances to play limited.
The Dutch goalkeeper moved to North London this summer alongside his then Swansea teammate Ben Davies in a reported £3.5m deal that also saw midfielder Gylfi Sigurdsson going the opposite way to the Liberty Stadium.
Having been the first choice shot stopper at the Wales side during the last three seasons, Vorm has only made one starting appearance for Mauricio Pochettino's side since his summer arrival in North London in last month's Capital One Cup victory over Nottingham Forest.
However, even though the 30-year-old reportedly received other offers during the summer - including from Liverpool - he is happy about his new role.
"It's obviously a new club, new players, new goalkeepers, and a new goalkeeping coach for me, so it's something totally different to what I was used to previously – but in a good way," the Netherlands international said to Tottenham official website.
"I still like to learn, even though I've been around for a few years, and it's great working with Brad, Hugo and Luke. Just speaking about Brad and Hugo, it's been quite natural for me to fit in,
They've been in football a while so that makes it easier – and we're all relaxed, we are easy-going guys and in a way we're quite similar We work hard so it's been an easy and natural transition for me."
Vorm has even praised his teammate Lloris and insists he still needs to learn despite his vast experience in the top flight.
"I've just played the one game so far and Hugo is doing amazingly, and we're working well together.
"I'm 30 years old now, almost 31, but I still like to learn and I still want to be a better goalkeeper. I definitely feel I'm always improving."
At the same time, the former Swansea stopper has hailed the methods of Spurs goalkeeping Coach Toni Jimenez.
"He's very lively and energetic and I like the way we work. Toni is always on everyone – he tries to help you understand new things and he pushes you to be better and better."
Meanwhile, Vorm may made his debut in the Premier League against Manchester City on Saturday after Lloris picked up an injury on whilst international duty.
The French international is expected to be assessed by Spurs doctors before the weekend in order to make a decision over his participation in the visit to the Etihad Stadium.