Balkan rivalries boiled over during a Euro 2016 qualifying match between Serbia and Albania in Belgrade.
The match was abandoned following a mass brawl on the pitch between players and fans after an Albanian flag considered provocative by Serbian fans was flown over the stadium by a drone.
The flag featured a map of so-called "Greater Albania," an area that comprises territory within today's Albania, Kosovo, Serbia, Montenegro, Macedonia, and northern Greece, along with two Albanian nationalist leaders — Ismail Qemali and Isa Boletini.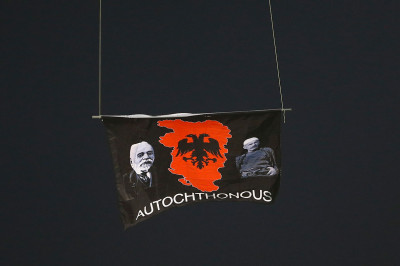 English referee Martin Atkinson interrupted the match in the 41st minute when Serbia defender Stefan Mitrovic managed to grab the banner and Albania players tried to protect it. Several Serbian fans invaded the pitch and clashed with Albania players.
Serbian media claimed the drone was being operated by Orfi Rama, brother of the Albanian Prime Minister Edi Rama.
Albanian fans had been warned against attending the game between the two Balkan rival nations that have had turbulent relations — mainly over the former ethnic Albanian-dominated Serbian province of Kosovo that declared independence in 2008.
The Albanian anthem was loudly jeered by Serbian fans and derogatory chanting was heard throughout the first half. Serbian supporters also threw flares at the pitch. Albania captain Lorik Cana said he and his teammates were hit by objects thrown from the stands.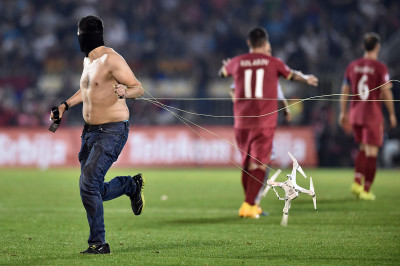 On his Twitter page, Albanian Prime Minister Edi Rama congratulated Albanian players for their courage before the match was abandoned and added that he was "sorry for the neighbours who left a bad worldwide image with the ugly show."
Thousands of Albanian fans who followed the match on a big screen in Tirana headed for the airport in the Albanian capital to welcome the players on their arrival from Belgrade.