Microsoft has acquired Perceptive Pixel Inc, the company behind an 82-inch multitouch display that Microsoft demonstrated at Mobile World Conference in February.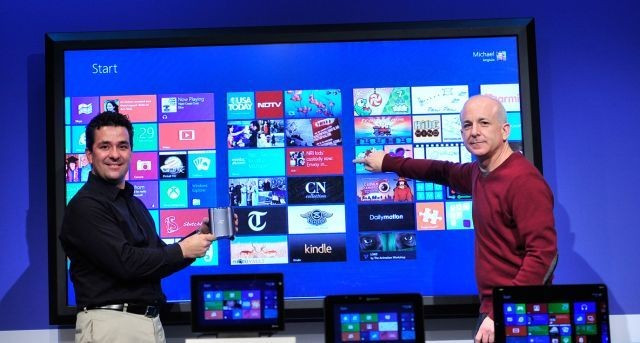 Capable of supporting hundreds of touch inputs at once, the enormous screen is said to be the world's largest true multitouch and stylus display.
"The acquisition of PPI allows us to draw on our complementary strengths, and we're excited to accelerate this market evolution," Kurt DelBene, president of the Office division for Microsoft, said in a press release.
"PPI's large touch displays, when combined with hardware from our OEMs, will become powerful Windows 8-based PCs and open new possibilities for productivity and collaboration."
Founded in 2006 by renowned multitouch pioneer Jeff Han, Perceptive Pixel shipped its first multitouch display in early 2007 and its large wall-mounted displays gained widespread recognition for being used by American broadcaster CNN during the 2008 US presidential election.
Consumers shouldn't expect Microsoft to be selling 82-inch screens anytime soon though, as while Microsoft CEO Steve Ballmer calls Perceptive Pixel's portfolio "fairly revolutionary," he concedes that there is a "lot of work to be done to bring the price down" before the technology is integrated with Microsoft's future products.
"We are incredibly excited to be working together on our mutual passion to build technologies that enable people to collaborate and communicate," Han said
"By joining Microsoft, we will be able to take advantage of the tremendous momentum of the Microsoft Office Division, tightly interoperate with its products, and deliver this technology to a very broad set of customers."
Terms of the deal - including the price Microsoft paid for PPI - has not been disclosed, and the deal is subject to customary closing conditions, including regulatory approval.
Earlier this week, Microsoft announced that Windows 8 will be available for PC manufactures in August and will go on sale to the public in October.
"Windows 8 is on track to release to manufacturing the first week of August," Tami Reller, chief marketing officer of Microsoft's Windows division, told the company's Worldwide Partner Conference (WPC) 2012.
"And Windows 8 will reach general availability at the end of October. General availability means that new Windows 8 PCs will be available to buy and upgrades will also be available starting late October."