Microsoft, which is speculated to release Windows 8.1 update 2 in August this year, is said to be already working on a flagship 'Windows 9' OS with which the Redmond-based company is rumoured to bring back the iconic 'Start Menu'.
Start Menu was highly expected to feature in the second update of Windows 8.1. Now, it seems that Microsoft will target the Start Menu relaunch with Windows 9 Threshold.
According to a ZDNet report, Windows 9, which is codenamed Threshold, will be released by spring 2015. The report also states that Microsoft will be incorporating a 'Mini Start Menu' that is expected to be customisable by users.
Apparently, Mini Start Menu is a newer version of Microsoft's conventional Start Menu. The company had showcased an initial prototype of the Mini Start Menu at its Build developers conference earlier this year.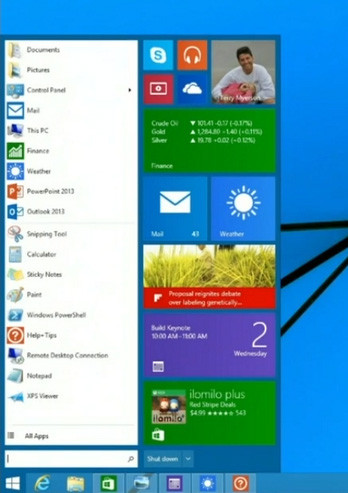 The prototype showcased floating Live Tiles in the Start Menu, which lets users access both metro-style and conventional (traditional Windows) apps.
Microsoft is also said to be working on incorporating a mechanism with which metro-style user apps float on the desktop, according to The Verge.
Apart from the new Start Menu, Windows Threshold is also expected to feature multiple enhancements.
The OS will dynamically fit in the device, which it runs. Users on different Windows platforms should see Windows Threshold 'differently'.
On desktops, Threshold is expected to boot as default rather than letting users choose between the traditional Windows and metro-style user interfaces.
Meanwhile, hybrid devices such as the Microsoft Surface Pro and Lenovo Yoga are expected to load both the interfaces. With this, users should be able to switch between traditional Windows interface and metro-style UI.
Microsoft's next Windows operating system iteration is also expected to work on ARM-architecture-based Windows Phones, ARM-based Windows tablets and Intel-Atom-driven Windows tablets.
Analysing the above information, it seems that Microsoft has taken the 'back to square one' approach. With this, the once-up-on-a-time tech giant could be looking to win back the significant PC user base it lost to competition, especially by killing the iconic start button in Windows 8.