Freshly leaked screenshot of a document pertaining to Windows 9 and Office 2015 has surfaced online via Myce, following Chinese leaker Faikee's recent revelation with censored screenshots depicting the existence of Windows 365 and possible release date information for Windows 9 preview.
Myce has claimed access to the uncensored document (see screenshot below) stating that the bottom part of it (after Base From Update) includes Faikee's snapshot: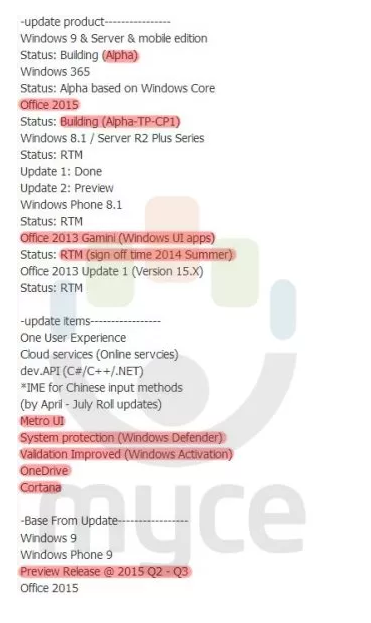 Myce further claims that it had access to the source of screenshot two days before the actual leak happened. However, the news website does not guarantee if the document is 100% original.
Nevertheless, the text in document clarifies that Windows 9 is still under Alpha stage with its Preview release scheduled for Q2-Q3 2015 and not in February-March 2015 as rumoured earlier.
The report highlights the update changes in the document called "Update Items," which include Metro UI, Windows Defender, OneDrive and improved Windows activation.
Another noteworthy addition to Windows 9 changelog is Windows Phone 8.1's personal assistant aka Cortana. However, the legitimacy of this claim is unconfirmed by the source.
Windows Office 2015 has been listed as "TP-CP1" which is the status code for Technical Preview and Consumer Preview 1. This is unlike the next-gen OS Windows 9 which is listed as "Alpha Stage" in the leaked document.
This indicates the former might actually get a public preview very soon, while the same cannot be said about Windows 9.
In related news, leaked screenshots of Windows 8 apps aka Office Gemini recently surfaced online with its potential release date expected to be sometime later this summer.