After months of rumours and speculation, Microsoft has announced Office Mobile for iPhone, bringing the ability to view and edit Word, Excel and PowerPoint documents on your phone.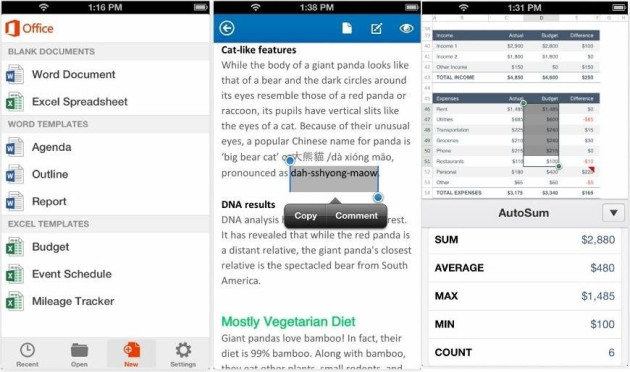 Although the company was tipped to be offering a free version, Office Mobile for iPhone will only be available to subscribers of Office 365, which costs £7.99 per month or £79.99 per year, giving users access to the iPhone apps, desktop PC and Mac Office suites on up to five machines, and 20GB of cloud storage to share documents between devices.
Pat Fox, senior director of product marketing in the Office Division, said: "We are excited to be adding even more value to our Office 365 subscribers with the new Office Mobile for iPhone. Office Mobile now enables iPhone users to access, view and edit their Office documents on the go."
The mobile access to Office documents is similar to what is already possible with Windows Phone 8 devices, but given the iPhone's much larger sales figures it makes sense for Microsoft to extend its products across rival platforms.
Once signed in, the user is greeted with a list of their documents in chronological order of when they were last opened; if you viewed a Word document on your Windows 8 computer this morning, then that will be at the top of the list on your iPhone.
Viewed and edited
Users can also view all documents and folders stored in their SkyDrive Pro or SharePoint accounts, and create a new document which will be uploaded and made accessible by the user's other machines. Only Word and Excel documents can be created on the iPhone, but existing PowerPoint files can at least be viewed and edited.
The iPhone app also supports Resume Reading, so an opened Word document will be exactly at the point you stopped reading on another Office 365 device, so you can easily continue reading from where you left off.
As you'd expect from Word, there are a number of text editing tools, such as bold/italic/underline options, highlighting, and a range of colours and font sizes to choose from.
Excel documents are scaled to fit the iPhone's screen, there are a number of common AutoSum commands to add up or multiply columns of numbers, for example, and you can also use data to create line, pie, bar and scatter graphs.
Free to download
Although new PowerPoint slideshows cannot be created with the iPhone app, the files can be viewed and edited; you can adjust the order of slides and the text on them, as well as add speaker notes and use the iPhone app as a cue card while giving your presentation.
Office Mobile for iPhone is free to download and can be used in conjunction with a one-month free trial of Office 365. The app works on the iPhone 4, 4S and 5, as well as the fifth generation iPod touch and all devices must run iOS 6.1 or later.
Microsoft has not yet revealed plans for an iPad Office app, and instead suggests users try Office Web Apps through the iPad's browser.
Office for iPhone will be available in 29 languages covering 135 markets, and although only available in the US at launch, Microsoft says the international rollout will "occur over approximately four to five days" from the 14 June launch.