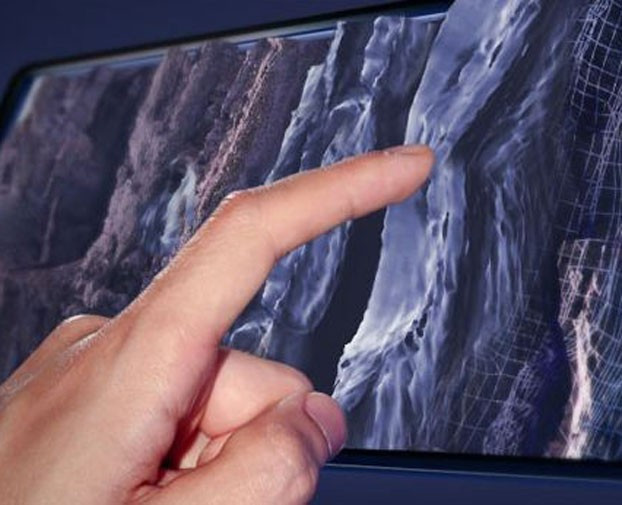 Microsoft is now working on taking 'tactile' sensations to displays of its smartphones and tablets. The company has officially shown off a new touchscreen prototype developed under its own branding that offers 'tactile' experience to users.
The latest innovation is the brainchild of researcher Hong Tan (based out at Microsoft Asia in Beijing, China), who is working on developing touchscreens that produce a variety of 'generalised' sensations, when users interact with these screens, to perform a variety of operations.
These 'tactile touchscreens' are claimed to have been built to allow users to experience various sensations like the 'click of a mouse' whenever users press an onscreen button via the touchscreen on their devices.
Even the weight of a particular folder (by virtue of the number of files stored inside) can be 'virtually sensed' by users. For example, if a folder has more files then users will experience a lag while dragging this folder. Lag here is similar to the heaviness factor that is felt when a heavy object is dragged across, in the real world.
"It Works like Magic"
Tan says that the tactile touchscreen will operate really smoothly, when synced with devices.
"The thing that's really, really cool," she says, "is to take a smooth piece of glass but make it feel different—it's almost magic."
According to Tan, the tactile touchscreen works by simulating the skin and muscles of users, rather than focussing only on users' eyes and gestures.
"The way we design computers today, it would seem that people only use their eyes," she says.
"Imagine experiencing a clicking sensation when pressing an on-screen button, sensing the weight of folders when dragging and dropping, and perhaps even feeling the texture of a sweater for sale online," adds Tan.
Tactile touchscreens are designed to provide users a 'multisensory' experience, which differs from the currently existing 'two-dimensional' interaction mechanism.
Electrovibration
Tan and her group of researchers are currently testing out tactile touchscreens by applying the concepts of electrovibration.
Electrovibration involves creation of an electrostatic force by applying alternating voltage, to the the display surface. This results in varying friction between the users' fingertip and the screen.
"I think everybody benefits," Tan says. "It's truly useful to people with hearing or visual impairments because it's all built into the same product."
Apart from Tactile touchscreens, Tan and her team are also working on developing haptic keyboards that provide key-click feedback to users.
Tan's haptic keyboards are also being designed to aid users in improving their typing speed/accuracy.
However, haptic keyboards are yet to go mainstream as of now, for users to conduct real-world tests on these devices and report them to the creators.
With tactile touchscreens having been prototyped, it makes sense for Microsoft to try out the innovations on one of their future Lumia smartphones (and even create a tactile sensation dedicated Lumia lineup).