Microsoft has priced the Surface with Windows 8 Pro in the US at $899 (£560), some $400 more than the starting price of the Windows RT Surface.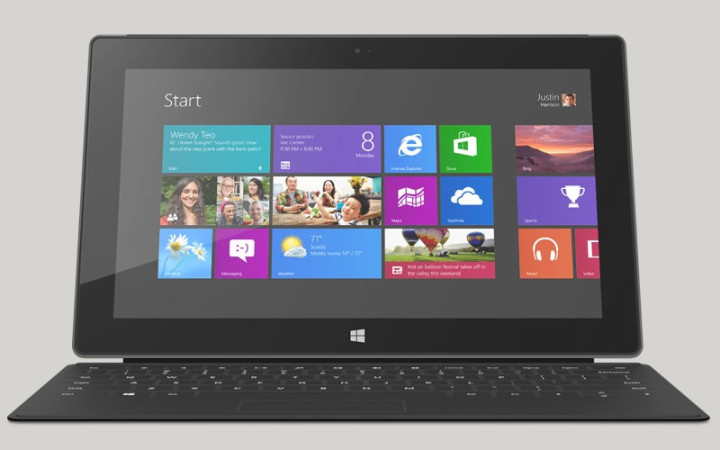 The Surface with Windows 8 Pro will be available in January with either 64GB or 128GB of flash storage. UK prices have yet to be announced, and a spokesperson for Microsoft in the UK said they had no details on pricing or release date yet.
At $899 for the basic model, without a keyboard cover, the Surface Pro is priced at $100 less than an 11in MacBook Air but a whole $400 more than the latest iPad.
Powered by an Intel Core i5 processor, the Surface with Windows 8 Pro looks similar to the regular Windows RT Surface, but the Pro is thicker - 13.5mm compared to 9.3mm - and 225g heavier, weighing in at just over 900g, around 30 percent heavier than the iPad 4.
Microsoft has also given the Surface Pro a higher quality screen, keeping the same 10.6in size and 16:9 widescreen aspect ratio as the cheaper model, but increasing the resolution from 1366 x 768 to a full HD 1920 x 1080.
Work and play
Aimed at work as well as play, the Surface Pro comes with a stylus, so you can jot down notes on the screen, or add your signature to digital documents, for example.
The Pro model also features a DisplayPort connection to share HD content with a television, projector or monitor, although this type of connection is nowhere near as widespread as HDMI, so most users will probably have to buy an adaptor.
Running Windows 8 Pro means the Surface Pro can run all existing Windows software, as well as new apps designed for the tiled interface of the new operating system. The regular Surface gets the tiled start screen and a conventional desktop, but cannot run any legacy software.
Because of its more powerful Intel Core processor, the Surface Pro gets a larger 42 watt-hour battery, but Microsoft's Surface Twitter account said the Pro will "have approximately half the batter [sic] life of Surface RT."
The tweet was later removed by the account, but Microsoft's general manager Panos Paney also tweeted that the Surface Pro will have around half the battery life of the RT model.

Microsoft claims eight hours of life for the RT, so this puts the Surface Pro at around four hours, although of course this will vary depending on what programmes are running and how bright you have the screen.
The Surface Pro will cost $899 for the 64GB model and $999 for 128GB, although neither come with a keyboard, which cost an additional £100 for the Touch Cover, or £110 for the Type Cover.