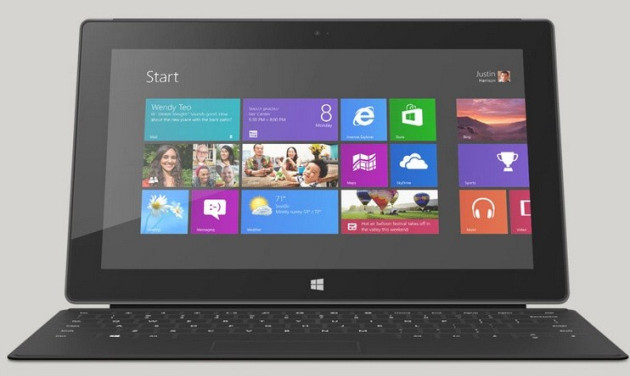 Microsoft announced two Surface tablets - with Windows 8 Pro and Windows RT - in June. Pricing details for the tablet with the Windows RT operating system were announced early in October, with a statement indicating three Stock Keeping Units (SKUs) would be made available. A 32GB Surface with Windows RT is to cost $499 ($599 with a black Touch Cover) and the 64GB variant will cost $699, with the same cover.
German retailer Notebook.de has now posted its details and prices for the second Surface tablet - with the Windows 8 Pro operating system. It appears the 128GB version is available for pre-order for €909 (approximately £730) and the smaller 64GB version will cost €809 (approximately £650). These prices are inclusive of Value Added Tax (VAT) of approximately €145 and €130 for the 128GB and 64GB versions respectively. There is no specific mention of a release date. The only available information is a rather vague promise to deliver tablets within three to four weeks.
As far as the release date is concerned the retailer has not provided any particular release date but promises to deliver the tablets not within '3-4 weeks.'
There is a price difference of approximately £88 between the high-end Windows RT version (64GB) and the Windows 8 Pro unit (128GB), which is probably a reflection of the doubling storage capacity and the revamped hardware on offer with the latter model. The Windows 8 Pro tablet has a larger battery, more RAM and better display and processing capacities. If it all comes together, the 128GB Windows 8 Pro tablet could become a significant player in the high-end tablet market.