Microsoft and Ubi Interactive have developed a touch screen technology which can turn flat surfaces such as walls, tables and whiteboards into interactive touchscreens using the Kinect motion sensor.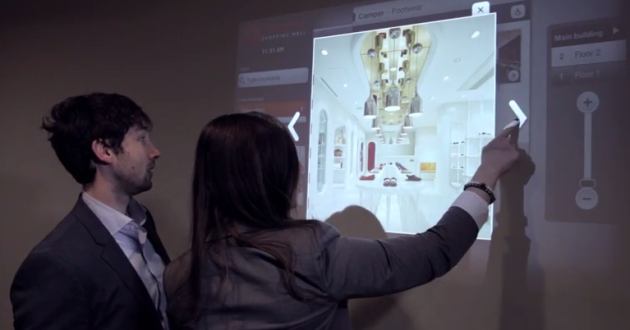 The technology was developed jointly by Microsoft and Ubi Interactive through the Kinect Accelerator Program and was tested by 50 companies before being released. The Kinect Accelerator Program was launched by Microsoft last year to help startups develop businesses around the Kinect for Windows motion sensor.
The system uses a projector and Kinect together with the software developed by Ubi Interactive allowing companies to create interactive touchscreens on virtually any flat surface. The systems requires a PC running Windows 8, and it will of course take full advantage of the touch-friendly design of the Windows 8 start screen.
The basic package costing $149 will support only single touch inputs and screens of up to 45in, while professional ($379) and business ($799) packages will support screens of up to 100in and two-finger inputs.
An also an enterprise edition which cost $1,499 and support up to 20-touch inputs. The technology is available in the UK with local prices available on request.
"We want human collaboration and information to be just one finger touch away, no matter where you are. By making it possible to turn any surface into a touch screen, we eliminate the need for screen hardware and thereby reduce the cost and extend the possibilities of enabling interactive displays in places where they were not previously feasible - such as on walls in public spaces," stated Anup Chathoth, CEO of Ubi in a post on the Microsoft Kinect blog.