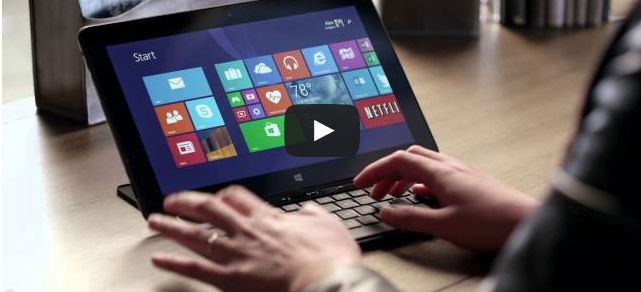 Ahead of the launch of its much anticipated 'Unified Windows' operating system, Microsoft has made available a 'Universal Keyboard' that mobile users of Windows, Android and even iOS can make use of intuitively.
Microsoft's cross-platform 'Universal Keyboard' is tailor-made to suit those possessing multiple mobile devices running multiple operating systems.
The 'Universal Keyboard' will go on sale starting October 2014, and its cost is estimated to be $80 (£49).
"With the Microsoft Universal Mobile Keyboard, getting stuff done while you're on the go has never been easier. Power through emails, put together a proposal, build a presentation, or simply instant message with a friend," states the Redmond-based company, in an official blog post.
One-click Operating system switch
Microsoft's Universal mobile keyboard incorporates a button, clicking which, lets users swiftly switch between multiple operating platforms (and pair the keyboard with these operating platforms) in one go.
Despite the 'multiple platform switching' mechanism, the overall functionality offered by the keyboard remains the same across platforms, and there is no compromise on the keyboard's feature-set despite the device undergoing multiple pairing (on different devices) and operating system switches.
Operating System-specific keyboard keys
Another USP of the Universal Keyboard is its incorporation of various OS-specific keys such as the Android Home key, iOS command button and the Windows control button.
These aspects, at least on paper, should provide 'cross-platform' users a comparatively effective operation without having to fret about brand loyalties.
Microsoft has also designed its Universal keyboard by keeping in mind people on the move. As such, the keyboard has a protective cover, and the gadget powers on when users just open the protective cover and shuts down automatically when it is closed.
Bluetooth pairing
The Universal Keyboard pairs with mobile devices via Bluetooth, and supports smartphones and tablets. Even Apple's iPads are supported and so are the Cupertino-based company's iPhones, apart from Android mobile devices and Microsoft's own Windows tablets.
Microsoft has incorporated the 'chicklet-style' keyset design, which should provide for fairly good 'key visibility' and let users compose documents in a typo-free manner.
"The cover has an integrated stand that can easily be detached, so you can position your tablet in the most comfortable position," adds Microsoft.
The Universal Keyboard charges itself via the microUSB, and has a rechargeable battery that is said to last for up to six months on a single charge. The gadget also comes with an integrated stand.
See the keyboard in action below.