Migrant crisis: Asylum seekers severely beaten up at Hungary border, Human Rights Watch claims
HRW accuses Hungary of not complying with international standards on human rights.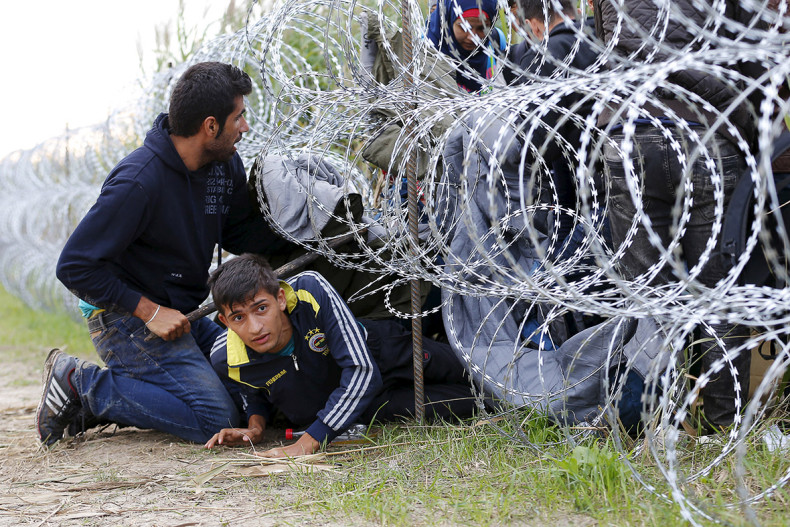 Hungary, which built a razor-wire fence to prevent refugees from entering the country, has been accused of violent treatment of its migrants. Human Rights Watch (HRW) claimed that refugees, including women, were beaten for two hours after being detained in the country. They were also allegedly sent back across the border to Serbia.
The new laws adopted by Hungary do not permit asylum seekers to enter the country directly. Instead, they have to pass through a transit zone on the territory bordering Serbia, the rights groups said. The government does not consider a person in the zone to have "entered" Hungary yet although it is inside the country. It said Hungary was applying a "legal fiction" to the zones.
The report said that while some of the refugees are transferred to an open detention centre inside the country, many of them are left stranded at the border in precarious conditions. However, the Hungarian government has been denying such claims.
"Hungary is breaking all the rules for asylum seekers transiting through Serbia, summarily dismissing claims and sending them back across the border," Lydia Gall, a researched from HRW, said.
"People who cross into Hungary without permission, including women and children, have been viciously beaten and forced back across the border," she added.
The HRW report was based on interviews with 41 refugees and migrants, as well as officials from a wide range of national and international organisations, the UN refugee agency, the Hungarian immigration office and the police.
One of the interviewees, an asylum seeker, said he was stopped in the detention centre inside Hungary where soldiers beat him up. "I haven't even seen such beating in the movies. Five or six soldiers took us one by one to beat us. They tied our hands with plastic handcuffs on our backs. They beat us with everything, with fists, kicks and batons. They deliberately gave us bad injuries," the report quoted him as saying.
HRW also accused Hungary of not complying with international norms on human rights and on providing protection to asylum seekers. It said the government was quickly dismissing most of the applications from single men and has been accepting only 15 claims every day at two of its transit zones along the Serbian border to stem the migrant influx.
"The abuse of asylum seekers and migrants runs counter to Hungary's obligations under EU law, refugee law, and human rights law," Gall said. "The European Commission should use its enforcement powers to press Budapest to comply with its obligation under EU law to provide meaningful access to asylum and fair procedures for those at its borders and on its territory."
The Hungarian government has not issued any statement responding to the HRW claims. It had rejected a similar claim reported by the UN refugee agency in June.