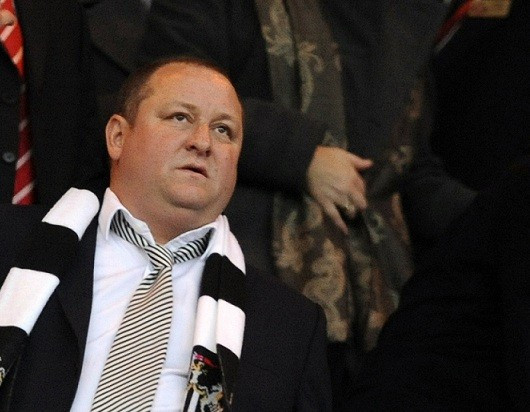 Billionaire Mike Ashley has surprised Sports Direct after selling a 7% share of the 'pile 'it high, sell it cheap' retailing group, worth over £220m.
The Newcastle United chairman sold the shares in the sports retailer just days after he was denied a £73m (€88m, $122m) bonus by Sports Direct's other shareholders.
Regarding the denial of his bonus, Dave Singleton, non-executive director and chairman of Sports Direct's Remuneration Committee, said: "During our ongoing discussions with institutional shareholders, it became apparent that, while we had the support of some of our largest shareholders, we had not been able to secure the requisite level of shareholder approval."
Sports Direct declined to comment on the matter, leaving investors guessing as to why he sold a portion of the brand.
Ashley, 49, who is vice-chairman of the company, sold the 25 million shares to banking group Goldman Sachs, which was looking to sell the shares on at £8.50-£8.70 a share. It did not reveal the price it paid but the shares closed at £8.93 – down 3%.
Despite the sale, Ashley's stake in Sports Direct is still worth over £3bn and his stake in the business stands now at 57.5%.
Ashley has also made headlines this week after it was announced that he had purchased an 11% share in House of Fraser in controversial circumstances.
It was reported on Friday that Chinese conglomerate Sanpower had purchased 89% of the British department store for £450m.
The deal between Ashley and Scottish retail tycoon Sir Tom Hunter, who sold the shares, allegedly ignored "proper procedures", and House of Fraser was threatening legal action against the pair.
House of Fraser said that the transaction between Hunter and Ashley would have no impact on the sale of the company to Sanpower.