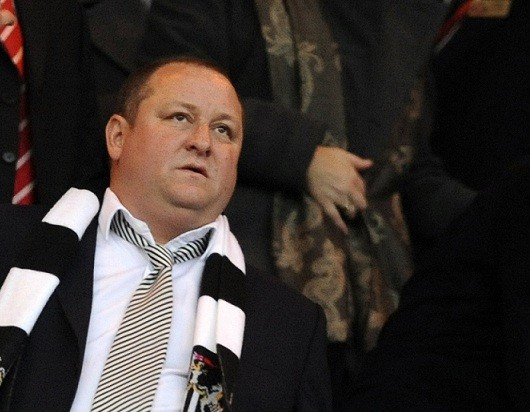 Mike Ashley is propping up headlines again with news of his appropriation of an 11% share in British retailer House of Fraser, causing the group's vendors to call foul.
Ashley's activities are probably met with as much derision and disbelief in the City of London as they are at Newcastle United. But how did the once-promising squash player from Burnham, Buckinghamshire become a retail billionaire and premiership club owner?
It was Ashley's work as a squash coach at a county level that funded his move into sports retail. In 1982 he opened Mike Ashley Sports in Maidenhead. The auguries proved favourable and he followed this with several other stores dotted around London.
A combination of private equity injection and re-branding offensive saw Ashley's Sports Direct empire begin to take shape. Leveraging the hoi polloi's reliance on sports-wear, Sports Direct expanded its footprint to eventually number 470 stores across the UK and into Europe.
Then, in 2008 Ashley joined another league when he purchased Newcastle United for £133m, which would turn out to be the source of continual controversy. The lowest point came when Newcastle were relegated at the end of the 2008-09 season – the first time they dropped out of the top flight since 1993.
Kevin Keegan resigned from his job as manager; Ashley and his then executive director Dennis Wise were branded by fans the "Cockney Mafia".
Relegation and relentless pressure from fans strong armed Ashley into putting the North East club up for sale. He said "You want me out [of Newcastle]. That is what I am now trying to do, but it won't happen overnight and it may not happen at all if a buyer does not come in."
Once again Ashley proved portentous: no buyer was found.
He remains unpopular as Newcastle's owner with fans citing a lack of ambition and direction coming from the top. Protests are a relatively regular occurrence. As recently as the last round of Premier League fixtures on Saturday, fans hired an open top bus to drive through the city calling for Ashley's head.
Away from football, Ashley's plays are more gregarious. In March, reports circulated that he was in for a £73m bonus dues to a Supplemental Executive Bonus Share Scheme. However, the company's institutional shareholders failed to back the remuneration plan.
The Sports Direct board will now put forward another proposal to award Ashley a bonus at its shareholders meeting in September. The proposal is likely to be a companywide bonus scheme, but controversially, 90% of shop floor staff will not be eligible for the bonus as they are on zero hour contracts.
Ashley has also hit the headlines today after it was reported that he had purchased an 11% stake in British department store, House of Fraser, although some are questioning the legitimacy of this deal.
The deal between Ashley and Scottish retail tycoon Sir Tom Hunter allegedly ignored "proper procedures", and House of Fraser is now threatening legal action against Hunter and Ashley.
It emerged on Friday that 89% of House of Fraser shares had been snapped up by Chinese conglomerate Sanpower. House of Fraser has said that the Ashley-Hunter transaction will not affect the sale to Sanpower.
Despite recurrent debacles, Mike Ashley is currently worth about $6.8bn (£4.1bn, €5bn), according to Forbes Magazine, making him the 14th richest man in Britain.