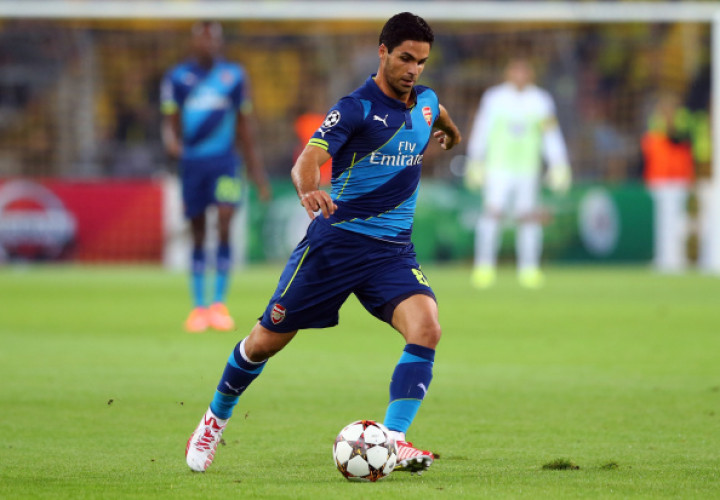 Arsenal suffered a double blow as they surrendered a 3-0 lead to draw 3-3 against Anderlecht in the Champions League on Tuesday.
Apart from handing Borussia Dortmund the initiative in the group, Arsene Wenger has confirmed that they have also lost captain Mikel Arteta to a hamstring injury, which is a big blow as Arsenal are already missing a host of first team players through injury.
"He has done a hamstring. I don't know what is wrong or how long he will be out for," Wenger said, as quoted on Arsenal's official site.
The north London side were in control of the game against Anderlecht, and at 3-0 looked to be cruising home. But the Belgian league champions had other ideas and staged a spirited comeback that led to an equaliser in the final minute of regular time, which now means the Gunners have very little chance of topping the group.
Arteta, who was substituted due to injury when Arsenal were 3-1up, feels that his team 'threw everything away' and has given up hope of catching up with the Bundesliga side, who are top of the table and are the Gunners' next opponents on Match day 5.
"The main aim when you start the competition [is winning the group], so we threw everything away today," Arteta told Sky Sports.
"We have another two chances still, but you can't miss a chance in the Champions League as every team has qualities and you saw what happened today."
The Spaniard is disappointed with the result and has admitted that the performance was not up to the level required by a club such as Arsenal, especially when holding a comfortable 3-0 advantage.
"We cannot afford to make the mistakes and concede three goals after going 3-0 up. It's not good enough. We're very disappointed and we missed a great opportunity to finish the job properly," the former Everton midfielder explained.
"We know what we're playing for and it was a massive day for us today. What happened in the second half is not the level required at this club," Arteta added.