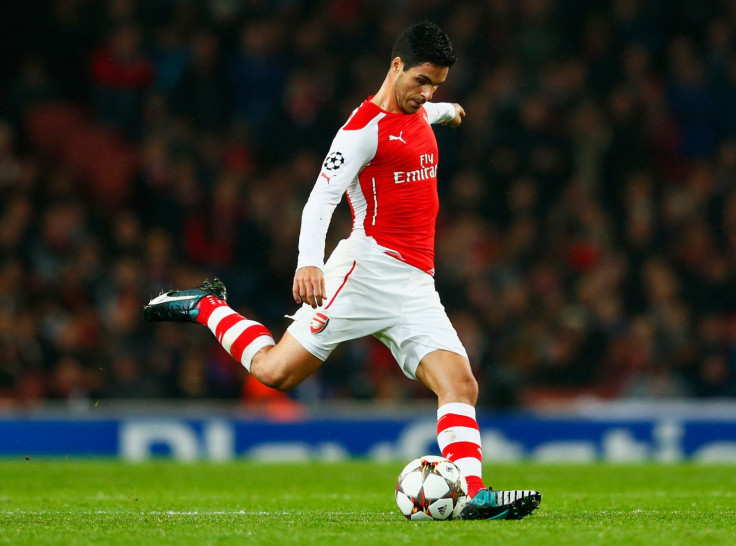 Mikel Arteta has revealed that he has still not been able to shrug off his injury worries and needs a few more days to get back into full fitness.
The midfielder played his last game in November, and has since been struggling with an ankle injury which has kept him out of the side. The Arsenal captain is back into full training and has also played an U-21 game against Stoke City, but does not feel at ease with his ankle which is causing discomfort, which has ruled him out of the Chelsea clash.
Arteta's absence has been compensated by the rise of Francis Coquelin, who has taken the responsibility of marshalling the Arsenal midfield to fill the void left by the Spaniard's absence.
Arteta is looking forward to return to full fitness within a fortnight and play an important role in Arsenal ending the season on a high. The former Everton man's contract with the Gunners expires this summer, but the Spaniard insists that an extension of any sort will only take a few minutes to resolve.
The news means that the Spaniard will miss Arsenal's crucial game against Chelsea at the Emirates Stadium on Sunday, where a win for the Gunners will keep the title race alive also take them back into second place.
"I haven't trained enough with the team yet to come back into the side," Arteta told Arsenal's official website.
"We need to manage the workload on the ankle. I played for the under-21s against Stoke recently, and I've been feeling OK, but I'm not in a position yet where I can feel perfect and just go out there forgetting about my ankle."
"I need to train more with the team, get my confidence and build it up. My aim now is to train with the team for another week or two and then be able to say to the boss 'OK, I'm ready now if you want to pick me'," he added.
The Gunners take on Chelsea in a crucial game on Sunday, with Arsene Wenger seeking his first win over José Mourinho in 13 meetings.
.