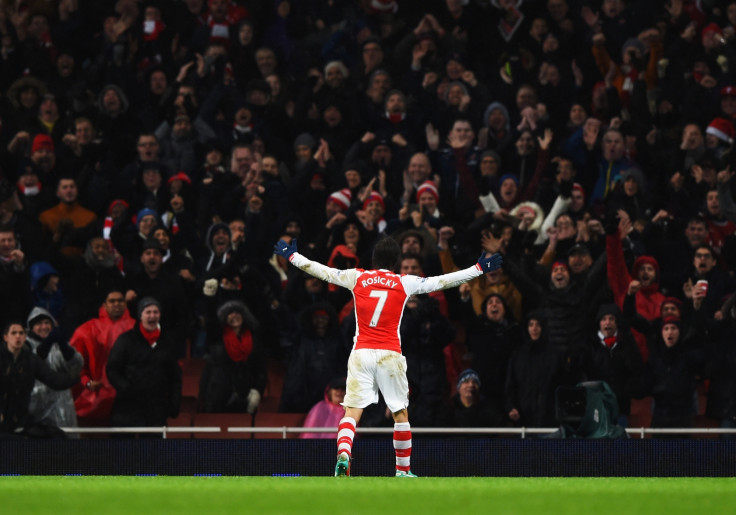 Mikel Arteta has heaped praise on Tomas Rosicky and insists that the midfielder is criminally underrated for the shift he puts in.
The Spaniard has been out with a calf strain for over a month, leaving the Gunners with a massive problem in midfield, which is also missing the likes of Jack Wilshere, Aaron Ramsey, Mesut Ozil and Mathieu Flamini among others.
The injury crisis forced Arsene Wenger to hand Rosicky his first league start this season on Boxing Day against Queens Park Rangers. The Czech Republic international repaid his faith by scoring the winner in the second half while the Gunners were down to 10 men after Olivier Giroud was sent off for dangerous play.
Arteta believes that if given a chance Rosicky can play a vital part in the remainder of the season and help Arsenal advance in the Champions League.
The Gunners are currently sixth in the league, three points behind Southampton who occupy fourth. Meanwhile, they take on Hull City in the third round of the FA Cup on Sunday as they prepare their defence of the FA Cup which they won last season.
"Within a week of joining Arsenal, watching Tomas train and having him play alongside me, I knew he was one of the most underrated players. It's hard to find players like Tomas who can be that clever and do things so simply and lively on the pitch," Arteta told www.arsenal.com
"I think everybody likes to play next to Tommy and I'm very happy for him because he was given the chance and again he hit the spot.
"He can carry the ball and he's got that 10-yard spurt where he can change direction, his vision and his final ball.
"Something people sometimes don't think about with Tomas is that he works really hard. He's always very alert with very high concentration levels during the game and that's why he's so good," he concluded.