Clashes have erupted in central Milan between black-clad protesters and police overshadowing a largely peaceful protest against the Expo 2015 (Universal Exposition) on 1 May.
Italian police fired teargas at the masked protesters who had pelted officers with stones, set ablaze several vehicles and rubbish bins and set off firecrackers and smoke bombs inside shops.
The No Expo protest kicked off on 30 April, when hundreds of students gathered in Milan to protest against the exposition. The protesters believe the Expo will not benefit Italy but instead the corporations collaborating with the event.
The demonstrators also claimed that thousands of people are working for free as volunteers at the international event.
A heavy police presence reflected the fears of authorities that small groups of radicals, known in Italy as Black Blocs, would cause violence.
Up to 500 baton-wielding protesters wearing motorcycle helmets gathered in the early afternoon in Piazza XXIV Maggio, in central Milan, far from the Expo site that lies on the north-western outskirts of the city.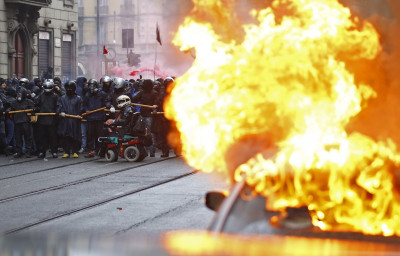 The rally soon turned violent, with radicals, said to include groups from France, Germany and other European countries, hurling rocks at police and smashing shop windows.
Homemade explosive devices were thrown against businesses, with rioters having banks and global corporations, such as McDonald's, a favoured target.
Numerous vehicles and a few shops were set on fire, sending pillars of thick black smoke into the sky.
Residents voiced their frustration at the violence, complaining to IBTimes UK that they will have to pay the price for damages done at private and public properties.
At least 20 people were arrested. As evening dawned upon the city, police said they expected more attacks.
Protesters splintered into smaller groups and there were concerns the world-famous La Scala Theatre would be targeted, as part of Italy high society was expected to attend the opening night of the Turandot.
Authorities pledged to take swift action against those who wreaked havoc upon the northern Italian city.
Lombardy region president Roberto Maroni said jail was awaiting the rioters whom he described as "violent idiots".