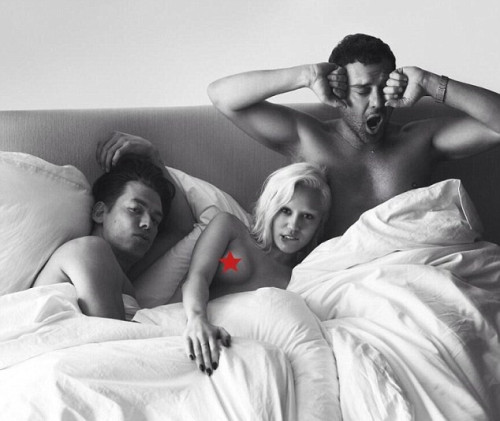 Just when you thought Miley Cyrus had done it all, she finds another way to get everyone's attention.
Apparently still on her personal crusade to shed her wholesome Hannah Montana image, The Wrecking Ball singer has posted a topless photo of herself lying in bed with two apparently naked men.
The black and white image shows the controversial star biting her lip provocatively, as she lies under a white duvet with her right breast exposed, leaning against a shirtless male companion caught in mid yawn.
The second male companion beside her in the photo, peers directly into the camera.
The 21-year-old tweeted a censored version of the picture, which will appear in W Magazine as part of a Bedtime Portraits feature.
She revealed that her bedfellow's were in fact photographic team Mert Alas and Marcus Piggott.
Writing on Twitter she said: "Coming soon in @wmag "bed time portraits By @mertalass & @macpiggott" so xxxited check it out 2 see the real deal."
Despite her reputation for being wayward, Turkish photographer Mert tweeted that the singer was easy to work with, saying: "Very nice to work with @MileyCyrus ! This girl is amazing."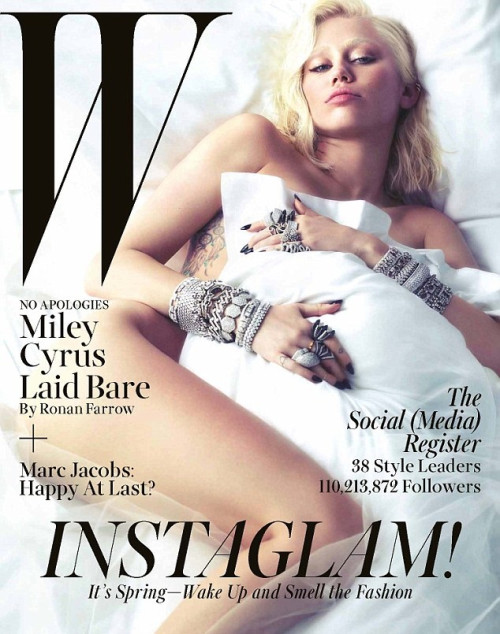 Of course, it's not the first time the singer has bared her breasts to her 16 million Twitter followers.
Over Christmas the singer posted an image of herself weaing a Santa hat and flashing her breasts for the camera.
Cyrus had earlier posed naked on the March 2014 cover of W magazine, adorned only with tattoos and jewellery.
In the interview for the magazine by Woody Allen's son Ronan Farrow, the Bangerz singer, who was earlier engaged to actor Liam Hemsworth, revealed she is not ready for a new relationship
Claiming men tend to 'try too hard' with her she explained: "That's why I'm, like, not trying to jump into a relationship… I love my music so much, and I love what I'm doing so much that that has become my other half — rather than another person."
She also said she believes men watch "too much porn."
"Those girls don't exist. They're not real girls. And that's like us watching romance movies. That's girl porn, because, like, those guys do not exist."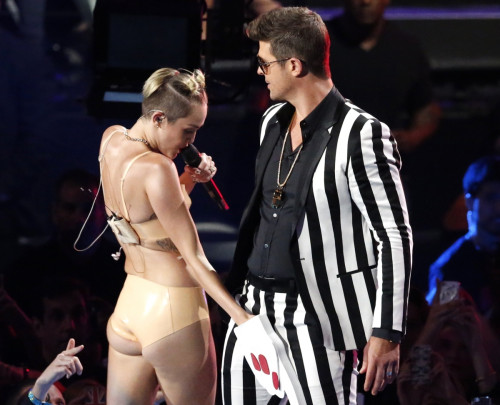 The couple first met on the set of the 2010 romantic drama The Last Song, and began dating soon after.
Hemsworth proposed to the Bangerz star in May 2012, however, after months of speculation surrounding the state of their relationship, the pair confirmed they had split in September 2013, after two years together.
The former Disney star has come under fire for her increasingly provocative behaviour, including her explicit performance in the video for her song Wrecking Ball and her performance at the MTV VMA's, where she was seen twerking with Blurred Lines singer Robin Thicke.