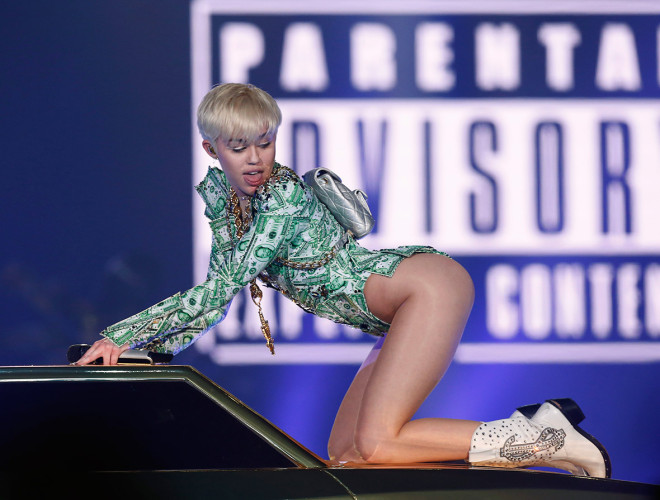 She is no stranger to causing controversy following her very public transformation from Disney star to twerking queen.
And now Miley Cyrus has raised eyebrows once again by making a joke about date rape during a recent performance.
The We Can't Stop singer interrupted her set at London's G-A-Y nightclub to wish her male pal, who was at the gig, happy birthday.
While honouring her friend, the 21-year-old star decided it would be a good idea to discuss his sexuality and poke fun at date rape.
"You know, everyone's a little bit gay ... It's the truth. Everyone's gay, all it takes is one cocktail," she told the crowd. "And if that doesn't work, sprinkle something in their drink. That's what I always do."
While Cyrus was able to get some laughs from the audience, some fans were less than impressed.
"Puzzled as to why young people fancy themselves such experts on sexuality. I suspect it has to do with their complete lack of knowledge about that and most other subjects. It also helps us know what idiocy the schools are putting in young people's minds," one fan complained.
Another wrote: "Hey, Miley, how about some abortion jokes, since you are crude, disrespectful, shameless and unhibitited???"
Her comments come just days after she urged fans to give up smoking cigarettes in favour of marijuana.
"Weed[ marijuana] has never killed anybody. You guys know that, right?" Cyrus said on stage. "So instead of smoking your cigarettes, why don't you guys just roll a fat joint?"
"In the middle of smoking all these joints... I could get any guy and girl to make out with me, because my breath smelled so hot," Miley announced to her audience.