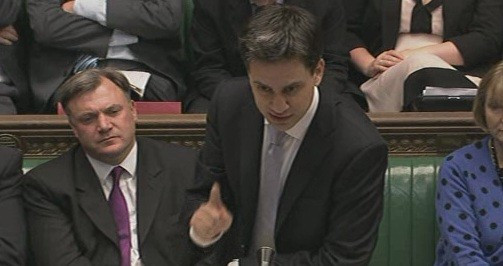 David Cameron has been accused of double standards over the Libor scandal as Labour called for a full judge-led inquiry into banking practices.
During Prime Minister's Question, Cameron was pressed on the coalition government's proposal to have a parliamentary inquiry into the Barcalys Libor scandal.
Miliband said the inquiry's focus would be far too narrow before arguing for a judge led inquiry that would meet government targets with a decision on Libor by Christmas, before widening its scope to the whole industry.
He claimed Cameron "just doesn't get it" when it comes to the lack of public confidence in banking.
Cameron defended his position by claiming that the government and shadow cabinet agree on the substance of the banking concerns, which he said was "outrageous, spivvy and probably illegal activity" which has cost people and small businesses money.
"As well as people being held accountable the public was proper action to make sure nothing like this happens again.
"That's why I favour the public parliamentary inquiry, as I want us to legislate on this by the start of next year."
He added that the serious fraud unit was still considering launching criminal investigations, which could be halted by a judge led inquiry.
"What matters more than the process is the substance and we want to get on with it," he said.
Miliband quoted Cameron speaking to the City in 2008 as having said "it will not surprise you to hear me say that the problem with the past decade is that there is too much regulation".
"Doesn't this say it all about the double standards of this prime minister. He is slow to act and stands up for the wrong people," Miliband said amid cheers from his party. He asked Cameron why his position on banking should differ from his position on the press, which is subject to the judge-led Leveson inquiry.
Cameron replied: "Everyone can see what's happening here. They [Labour] want to talk about everything except their own record of 13 years in charge.
"We may have found the Higgs Boson, but Labour still aven't found a sense of shame."
The House will vote on July 5 as to whether the bankers should be subject to the coalition's choice of a parliamentary inquiry, or Labour's judge led inquiry.