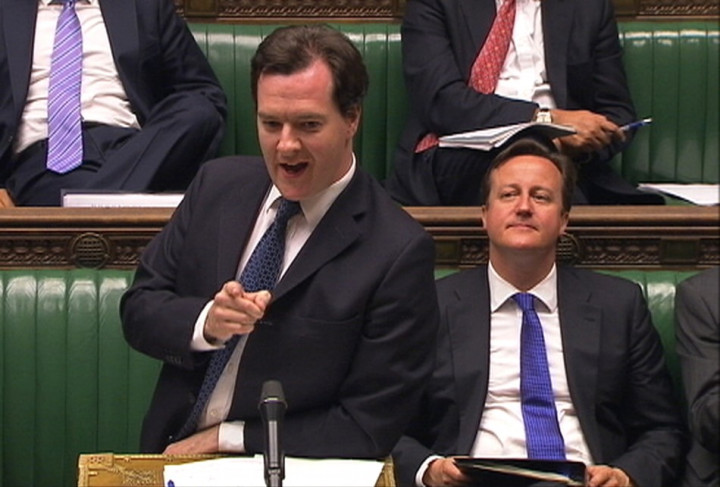 Bankers face a parliamentary inquiry into their disgraced industry, Chancellor George Osborne announced to the House of Commons, after a rate-fixing scandal rocked the financial world.
A recent investigation by the Financial Services Authority (FSA) exposed fraudulent interest rate-fixing at Barclays bank. Barclays was handed the City of London's biggest ever fine of £59.5m.
Other big British banks, such as Lloyds and HSBC, have also been accused of manipulating interest rates for their gain.
"The behaviour of some in the financial services industry has damaged the reputation of an industry that employs hundreds of thousands of people and is vital to the success of our economy," Osborne said in a statement to MPs.
The inquiry will cover the "transparency, conflicts of interest, culture and professional standards within the industry".
It is to be chaired by Andrew Tyrie, the Tory Chichester MP and chairman of the Treasury select committee, and will comprise members from both the House of Commons and the Lords.
Prime Minister David Cameron said he wants the inquiry to be complete by January when his government's Finance Bill comes to parliament.
"I want an inquiry done by then so we can take the best of the inquiry and put it in the Bill," Cameron told MPs.
The Bill includes a number of banking reforms taken from the Vickers report into regulating the industry. It includes a plan to ringfence parts of retail banking from the investment side, in order to protect consumers.
Ed Miliband, leader of the opposition Labour party, said while he welcomes a probe into the banking industry, it should be "independent of bankers and independent of politicians".
"That is the only way, in my view, that we can restore trust in the City of London," Miliband said.
The government rejected his call for an independent inquiry.
"I don't think a long, costly public inquiry is the answer. It would take months to set up and cost millions," said Osborne.
Shadow chancellor Ed Balls hit back.
"Only with an independent, forensic, and open public inquiry ... can trust be regained," he said.
"The public are rightly baffled and angry about what they learnt was happening at Barclays."
Bob Diamond, Barclays chief executive who many are calling to step down over the rate-fixing scandal, will face a grilling by the Treasury select committee on 4 July.
Osborne said the Serious Fraud Office is looking at criminal prosecutions for those involved in the scandal because the FSA does not hold criminal powers.
"We would encourage [the SFO] to use every legal option available to them," Osborne said.
The Chancellor also announced an amendment to the Finance Bill that will see fines imposed on banks for their misdeeds will be paid to the Treasury.
It will be backdated to 1 April 2012, which means the fine handed to Barclays will be paid to the public purse.