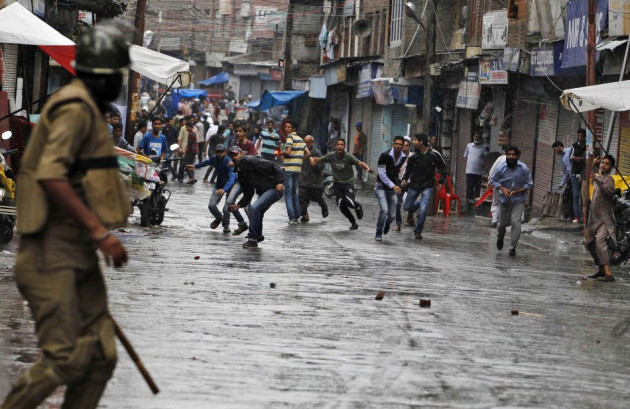 Heavily armed militants killed at least 12 people, including a lieutenant colonel in the Indian army and several policemen and soldiers, in attacks on a police station and an army outpost in India's Jammu and Kashmir state.
The separatists were said to be holed up in an army barracks after their killing spree and had been surrounded by security forces trying to prise them out.
In the early morning raid, the suicide commando squad, dressed in army fatigues, stormed Hiranagar police station, spraying bullets and lobbing grenades. Four policemen and two civilians were killed, initial reports said.
The militants went on to the neighbouring Samba district in a highjacked truck, after killing the driver, and attacked an army cantonment. They were not challenged at the gate, and went to the mess where they fired on unarmed soldiers.
The death toll from the twin attacks could rise, reports suggested. The superintendent of police at Samba said the death toll could not be confirmed and that two explosions were heard at the army camp.
The militants, who are suspected to have infiltrated Indian Kashmir from Pakistan, were engaged in a gunfight with government forces. The Hiranagar police station is situated barely one kilometre from the border.
Rajesh Kumar, Inspector General of Police, said additional forces from the reserve police and army have been called up to bolster the offensive against the militants holed up in the army camp. Reports said two terrorists have been killed and that army helicopters were conducting areal surveillance.
The attack came a day after Indian prime minister Manmohan Singh said he would meet his Pakistani counterpart, Nawaz Sharif, in New York in a move seen as an effort to normalise relations between the nuclear-armed neighbours.
Historically, Kashmiri militants, who have been fighting against Indian control over the region for decades, are known to launch attacks whenever political leaderships in either country pushes ahead with the peace process.