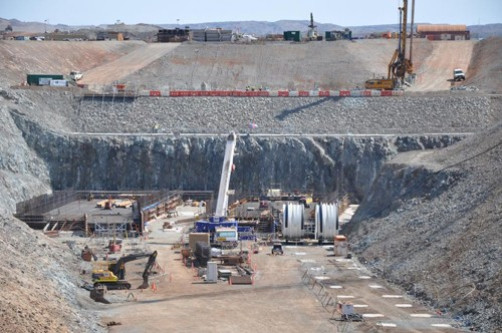 Mining group Rio Tinto is targeting $7bn (£4.37bn) in cost cuts and savings by the end of 2014 as a decline in global demand and lower commodity prices eat into the profits of mining firms.
The demand for commodities is expected to decline further due to the ongoing economic problems in the US and Europe and a slowdown in Chinese economy.
"We are taking further tough action to roll back the unsustainable cost increases of the past few years and are maintaining a relentless focus on improving productivity," said Rio Tinto CEO Tom Albanese.
The world's second-biggest mining group expects to save more than $5bn of operating and support costs by the end of 2014. It will also reduce the planned spending on exploration and evaluation projects by $1bn over the remainder of 2012 and 2013.
Additionally, sustaining capital expenditure will be reduced by more than $1bn in 2013.
While the US and Europe, being the world's largest commodity markets, have experienced a slowdown in their economic growth, China's rapid economic growth over the past few years has helped miners like Rio Tinto.
Demand from China, which currently accounts for about 60 percent of global imports of iron ore, has been crucial for mining companies in the past.
Nevertheless, the recent slowdown in China, hitting a three-year low in the July to September quarter, raised concerns of a further decline in demand and lower commodity prices.
The mining giant said it expects a recovery in China in the near future, with GDP growing more than 8 percent in 2013.
The company expects steel demand from China to peak at about 1 billion tonnes by 2030. Rio is expanding the capacity at its Pilbara operations to 290 million tonnes a year in order to meet the demand, and the project is due for completion in the fourth quarter of 2013.
"I'm cautiously optimistic about the fact that we're beginning to see green shoots in China," lbanese said.
"We are investing in the highest returning opportunities, delivering major projects on time and are taking advantage of the inbuilt flexibility in our phased investment programmes," he added.
Other miners, including BHP Billiton, are also adopting cost-cutting measures, such as reducing the workforce, stalling big developments and closing offices.
Finding no improvement in iron ore and steel making coal prices in the near term, BHP has in 2012 closed two Australian coking coal mines and shelved or postponed billions of dollars in proposed projects such as the Olympic Dam copper-and-uranium expansion.