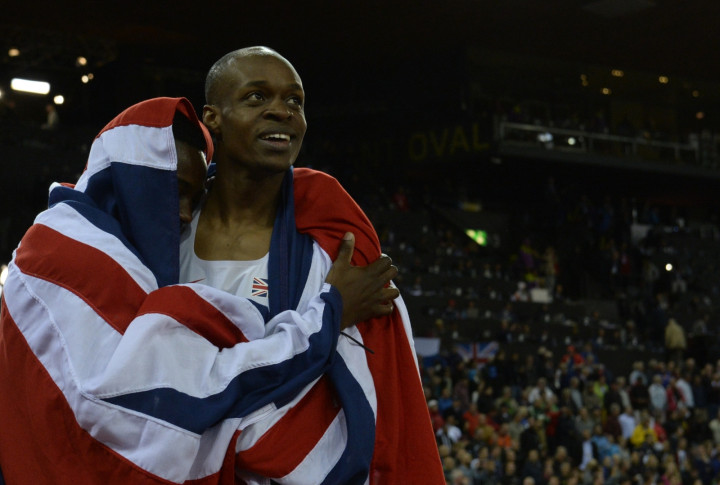 Great Britain enjoyed their most successful day in European Athletics Championship history as Mo Farah, James Dasaolu and Tiffany Porter all won gold on a sensational night in Zurich.
Farah defied a torrid 2014 to stroll to 10,000m gold with fellow-countryman Andy Vernon winning silver, before American-born Porter claimed first spot in the 100m hurdles.
But Dasaolu arguably grabbed the headlines, as after favourite Jimmy Vicaut withdrew before the 100m final, the Brit stormed to his first major medal in a time of 10.06 in inclement Swiss conditions, while Harry Aikines-Aryeetey took bronze.
"I'd have loved to have gone quicker but the championships are all about executing your race," he said.
"In the build-up we had delays and faulty starts so it was about concentrating. I didn't think I got the best of starts and I actually thought I messed up my opportunity of even picking up a medal but once I got through my drive phase I was able to pull away.
"Of course winning a medal is going to give me confidence but I'm under no illusion that there are guys out there running 9.8 and 9.9sec on a regular basis," he added. "There is still work to be done to improve me as an athlete."
Earlier, Farah – following a year in which he finished a disappointing eighth at the London Marathon and withdrew from the Commonwealth Games after collapsing in his bathroom – returned to form to regain his 10,000m European title with a dominant display.
The 31-year-old will go for a second gold of the championships and a 14th major title in the 5,000m on Sunday.
"I was really ill a few weeks ago but training has gone well," said Farah. "Winning the European Championships again really does mean a lot to me.
"I didn't want to let people down after missing the Commonwealth Games - it hasn't been easy.
"I won the 5,000m and 10,000m double in Barcelona in 2010 and I won one title in Helsinki two years ago. Now I'm excited for the 5,000m and I hope to run well again."
Porter then realised her potential by grabbing 100m hurdles gold in Zurich in torrid conditions for hurdling to continue GB's golden streak by finishing ahead of France's Cindy Billaud.
"This is my first gold medal so I couldn't be happier," she said. "I had a great start but the rest of my race wasn't great. But it's really important to stay composed and execute the 10 hurdles to the best of your ability."
A surprise fifth medal of the evening came in the form of Ashleigh Nelson in the women's 100m, as the 23-year-old dipped for a bronze medal behind Netherlands' Dafne Schippers.
"The last few years have just been managing injuries and it's been tough," said Nelson. "This year I wanted to come back and make sure I was in the final here because when you're in it you never know what might happen."
The quintet's success is expected to be added to on Thursday when Conrad Williams, Martin Rooney and Matthew Hudson-Smith go in the men's 400m final, while Christine Ohuruogu runs in the women's 400m event.