The expected launch of the iPhone 5 is one of the reasons mobile phone sales have dropped for the first time in three years according to the latest research from Gartner.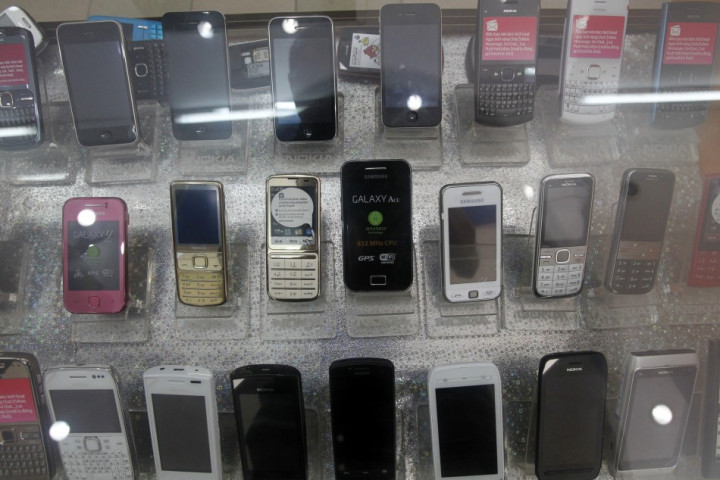 Back in April, it was revealed that Samsung had taken over from Nokia as the world largest phone seller. This has been confirmed by the latest figures from Gartner who claim that Samsung sold 40 percent of all Android smartphones in the first three months of 2012, with no other manufacturer grabbing more than 10 percent of the market.
However, the overall mobile phone market shrunk for the first time in three years, falling two percent compared to the same period last year. This was the first contraction in the smartphone market since the second quarter of 2009 and Gartner principal research analyst, Annette Zimmerman, believes the decline is, in part, down to the expectation over the launch of the next Apple iPhone:
"The arrival of new products in mature markets based on new versions of the Android and Windows hone operating systems (OSs), and the launch of the Apple iPhone 5 will help drive a stronger second half in Western Europe and North America. However, as we are starting to update our market forecast we feel a downward adjustment to our 2012 figures, in the range of 20 million units, is unavoidable."
Samsung has seen a 25 percent increase in sales from 68.8m units in Q1 2011 to over 86.5m smartphones in the first three months of 2012. It now has a market share of 20.7 percent according to Gartner's figures eclipsing Nokia as the world's largest phone seller.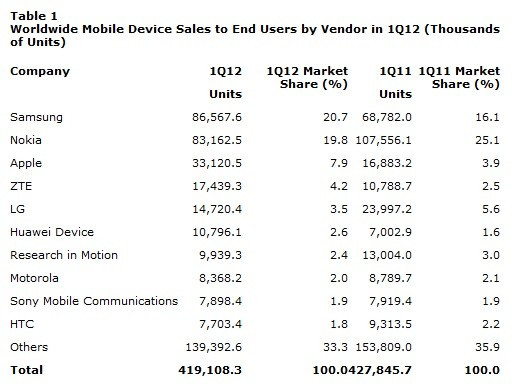 Nokia has held the top spot since 1998 but the past three years has seen its popularity wane significantly and the Finnish company is currently going through a turbulent transition period as it moves from its own Symbian operating system to Microsoft's Windows Phone platform.
"Smartphone sales are becoming of paramount importance at a worldwide level. For example, smartphone volumes contributed to approximately 43.9 percent of overall sales for Samsung as opposed to 16 percent for Nokia," said Anshul Gupta, principal research analyst at Gartner.
Apple is in third place with 7.9 percent of the market, which has more than doubled since this time last year. It sold 33.1m iPhones in the three months to the end of March 2012, despite a lot of people waiting to purchase the iPhone 5, which is expected to launch later this year.
Chinese manufacturer ZTE, which broke into the top five for the first time last year, has now leap frogged LG into fourth place growing its market share from 2.5 percent to 4.2 percent, while LG has seen its market share dip drastically from 5.6 percent last year to just 3.5 percent now, moving from the third largest mobile phone vendor this time last year, to fifth position at the moment.
In total 419.1m mobile phones were sold in the three months in question, down from 427.8m in the same period last year. However, smartphone sales continue to grow, with 144.4m sold in the three months, representing a growth of 44.7 percent year-on-year.
Another Chinese manufacturer Huawei has jumped ahead of the beleaguered RIM, while Motorola and Sony maintained their market share with Taiwanese manufacturer HTC slipping from 2.2 percent to just 1.8 percent share of the market.